Graduate Student Teams Win Big in 2018 Lulu eGames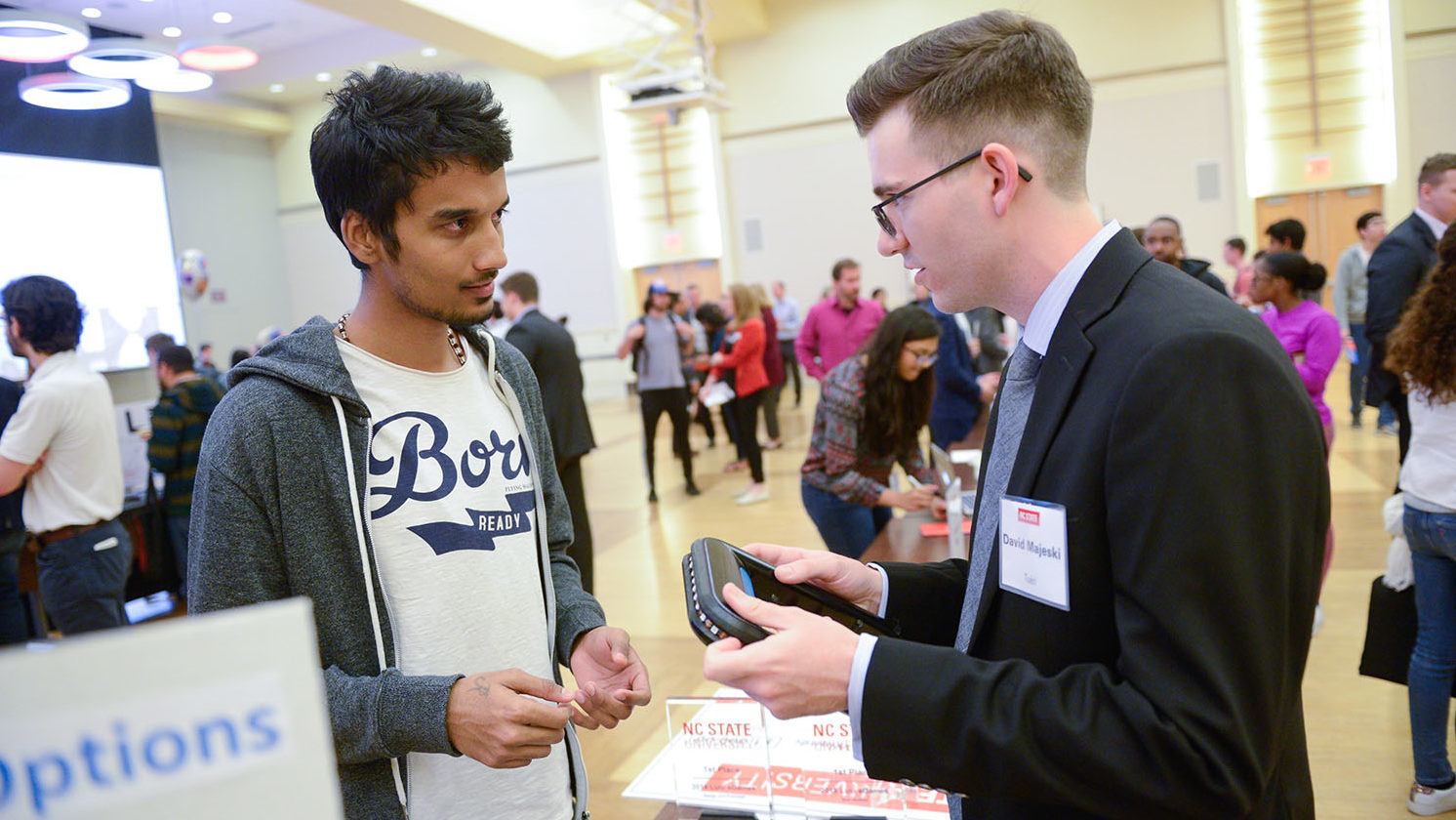 Graduate student teams did well in the 2018 Lulu eGames on April 5, a contest where NC State University student entrepreneurs compete to win over $100,000 in venture capital. This year marked the 10th eGames, where self-publishing company Lulu and other sponsors provide cash prizes for top student teams.
David Majeski, whose company is called Tueri, won $16,500 in start-up funds to develop a bicycle safety device. Majeski, a master's student in NC State's microbial biotechnology and MBA programs, started working on the device with fellow students in 2016, but most have moved on now.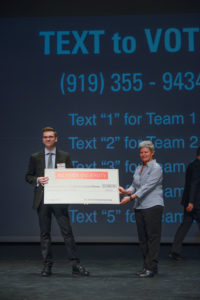 Tueri is a lighting device that gives cyclists more visibility on busy city streets, with flashing lights, brake lights and turn signals. When a cyclists stops, it can be removed and used as a sturdy bike lock.
Majeski, who also earned his undergraduate degree at NC State, was struck by cars twice while riding his bike on campus his freshman year, 2011-12. Though he wasn't seriously injured, the accidents caused him to give up cycling altogether.
In 2016, Majeski was a member of Team Tueri, a group of MBA students who partnered with industrial design and engineering students to develop the original prototype for the bike safety device. The team's efforts were featured in a Graduate School video. Other team members have graduated and moved on, but Majeski said he stays in touch with some of them.
On April 5, at the post-eGames expo, cyclists lined up to talk with Majeski about his product and how soon it could come to market. As a full-time master's student (and teaching assistant) in two programs, Majeski is juggling a lot and says that right now Tueri is a "third or fourth" priority for him.
But with more than $16K in hand, he'll have motivation – and resources – to further develop Tueri. He says his next move will to develop a true prototype that he can text for durability. "I will probably drop it over and over," he said.
There's what Majeski won:
First place ($5,000) in the design and prototype category.
In addition, the Tueri pitch video was chosen as the Fan Favorite for this category ($500). Competitors create videos about their products that are open for public viewing and voting before the eGames.
First place ($10,000) in the new venture category.
Audience Choice ($1,000) for the live pitch competition, where five teams representing five eGames categories compete for prizes before judges and a live audience. Audience members vote for their choice via text message.
And here's how other graduate student teams faired in the eGames.
Wyker Designs, a handbag design company by Laura Wyker, art and design student, won second place ($3,000) in the arts venture category, along with the Fan Favorite Video for the category ($500). Wyker says she will use her capital to purchase an industrial sewing machine to help her create the hand-crafted bags. She will also purchase leather and other supplies that she uses to create the handbags. Her next challenge will be to spread the word about the handbags and try to get them placed in local boutiques.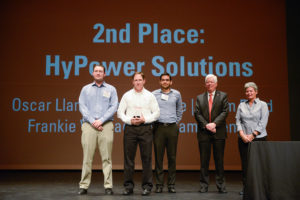 HyPower Solutions won third place ($2,000) in the built on a cloud category and second place ($3,000) in the design and prototype category. The company provides energy storage using hydrogen as a fuel source. Renewable energy sources like solar and wind aren't always available, so storing excess energy capacity becomes important. Team members say their process is 44 percent more efficient than current technologies. With their winnings, they would like to create a better prototype. Team members are: Oscar Llama, Jake Trimble, Frankie Womack, Ben Tennant and Adam Read, all of the MBA program.
The HyPower team members are also the brains behind Mitramag Canine, a low-risk, transcatheter implant for surgical repair of the mitral valve in dogs. Mitramag Canine won third place ($2,000) in the design and prototype category. The device, developed by a UNC professor, can repair a dog's heart defect that prevents the left ventricle from closing properly. The team hopes to use their winnings to complete a prototype of the device and make it smaller.
Vital Guide, a system that improves work-flow efficiency and patient outcomes in hospital emergency departments through patient monitoring, won second place in the built on a cloud category. Team members are Anthony Workman, MBA; Chris Fesmire, biomedical engineering; Alper Ender, computer science; and Pratik Bendale, design. The team wants to use their prize money to obtain a provisional patent, and they hope to continue working on the business after they graduate.
VitalFlo, Inc. was another big winner with former graduate student members. The company won the first prize of $25,000 in Daugherty Endowment funds for startup companies that have licensed NC State intellectual property in the last three years. VitalFlo, a technology that helps patients predict asthma attacks, was launched last April by a team that included James Dieffenderfer, a graduate student in biomedical engineering, after the product team won $20,000 in start-up funds through the 2017 Lulu eGames.
Learn more about the 2018 eGames winners
Find out more about the 2018 eGames finalists
Learn about the graduate student teams that won in the 2017 eGames
Find out how one of the winning 2017 teams used their winnings