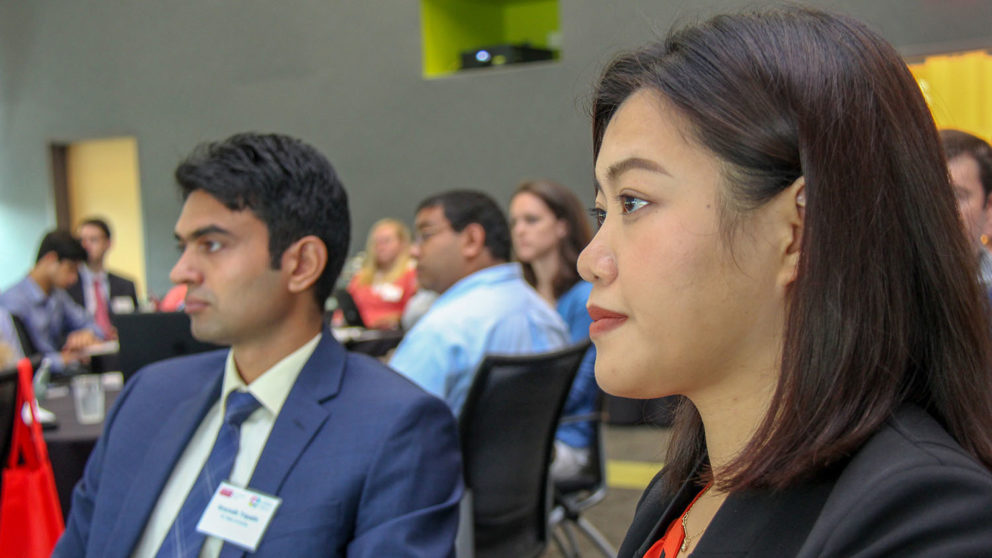 Beginning March 1, late-stage doctoral students and postdocs can apply for this summer's Accelerate to Industry Immersion Week. The program, open to Ph.D. students, postdoctoral scholars and alumni, will introduce participants to possible careers in industry through an intensive week-long experience.
This is the third year the summer program has been offered. Applications can be submitted through the end of March, and 60 participants will be selected.
Accelerate to Industry (A2i) program is an initiative of the Graduate School's professional development team designed to increase awareness among postdoctoral researchers and graduate students about the growing range of industry career opportunities, as well as the business and professional skills sought by today's hiring executives.
This summer's A2i Immersion Week will be held July 28-Aug. 2 at Hunt Library. Participants will engage with industry leaders and corporate executives through one-on-one meetings, small-group activities and social events designed to foster personal and professional connections.
Returning partners LORD Corporation and Eastman Chemical have signed on to support this summer's A2i Immersion Week.
Immersion week participants engage in activities designed to help them better understand key concepts of corporate culture and operations, including business development, market assessment, regulatory affairs, intellectual property and technology evaluation.
In addition to supporting students at NC State, the Graduate School's professional development team wants other universities to benefit from their knowledge and experience with A2i. Several other institutions are considering implementing A2i, now an officially trademarked NC State program.
Graduate School Assistant Dean Laura Demarse is already working with faculty from the University of Florida, University of Arkansas, N.C. Central University and Florida International University to make A2i available at those institutions. Other universities can join A2i to create an industry careers program for their own graduate students, without having to reinvent the wheel.
For the first time this summer, the Graduate School will host a Summer Institute in June for partner universities. NC State hopes to attract 20-30 partners from other universities.