Winners Announced for Postdoc Research Symposium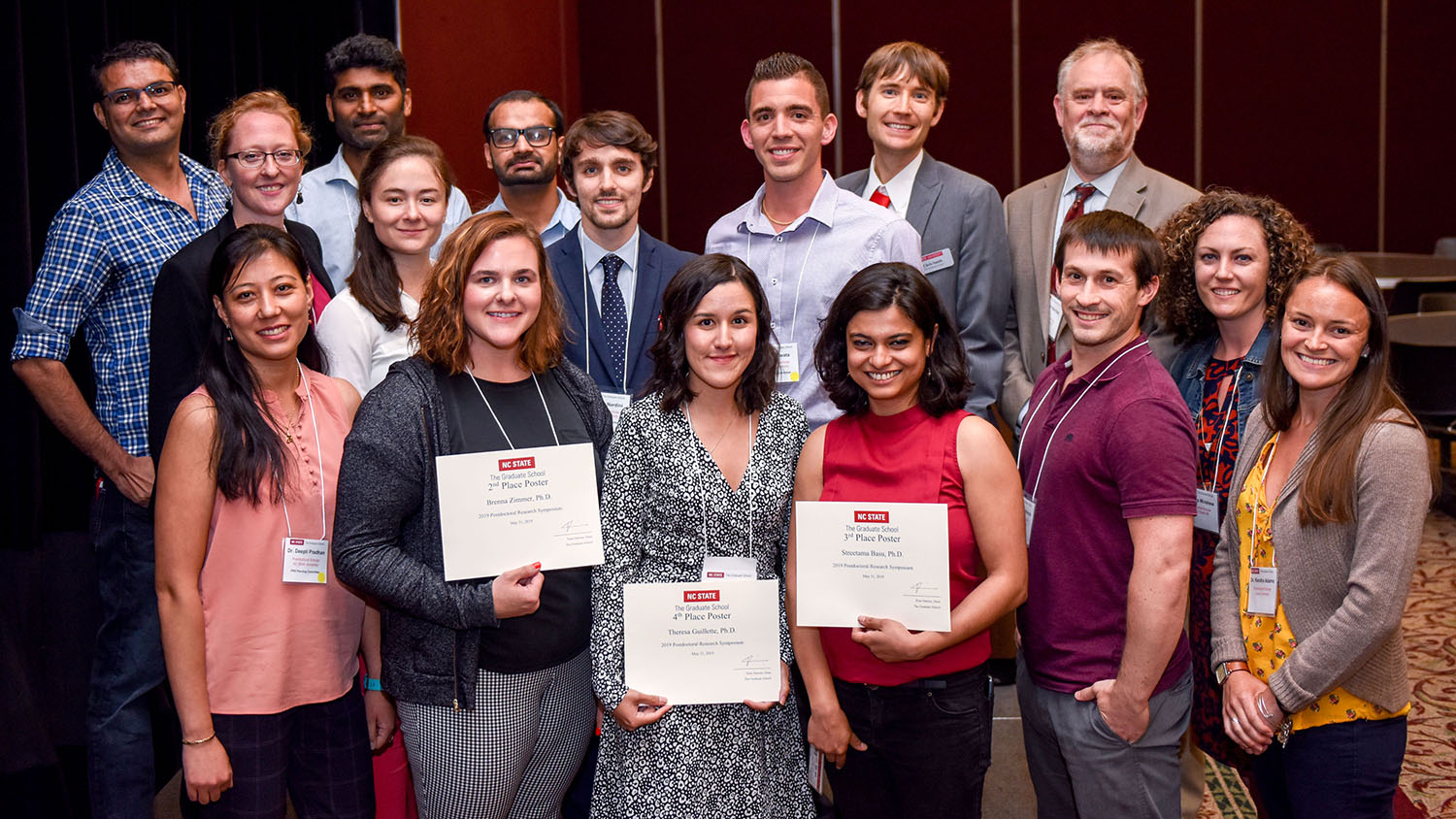 More than 130 attendees, including postdocs, faculty, administrators, wrapped up the month of May at the 8th Annual Postdoctoral Research Symposium. Postdocs participating in the event were from NC State, the University of North Carolina at Chapel Hill, Duke University and the National Institute of Environmental Health Sciences.
Four winners were chosen in the poster competition, all from NC State. They are: first place, Samantha Erwin, population health and pathobiology, College of Veterinary Medicine; second place, Brenna Zimmer, molecular and structural biochemistry, College of Agriculture and Life Sciences; third place, Sreetama Basu, molecular biomedical sciences, College of Veterinary Medicine; and fourth place, Theresa Guillette, biological sciences, College of Sciences. Cash prizes for the winners were provided by the Graduate School.
Attendees participated in Poster Bingo, which encouraged them to visit posters across disciplines.
"For the first time, we had attendees take part in an optional Poster Bingo event, designed to encourage our attendees to see posters outside their discipline," said Chris Smith, director of the Office of Postdoctoral Affairs. "Three completed cards were drawn at the end of the day for gift card prizes ranging from $50 to $25."
In addition to speakers and career panelists, others attending the event were representatives from RTI International's University Collaborations Office; Eastman Chemical Co.; the NC State Libraries' Peer Scholars Program; Peter Harries, interim dean of the Graduate School; and NC State Provost Dr. Warwick Arden.
Members of the symposium planning committee who worked hard to make this a great event include: Paul Beata, electrical and computer engineering; Rishi Aryal, horticultural S-science; Qandeel Hussain, English; Mohamed Saveer Ahmed, entomology and plant pathology; Deepti Pradhan, crop and soil science; Ana Zuleta Correa, biological and agricultural engineering; Rozalynne Samira, entomology and plant pathology; John Nardini, mathematics; Melina Florez-Cuadros, entomology and plant pathology; Aurore Canoville, biological sciences.