Notes from the Field: Lydia Villa-Komaroff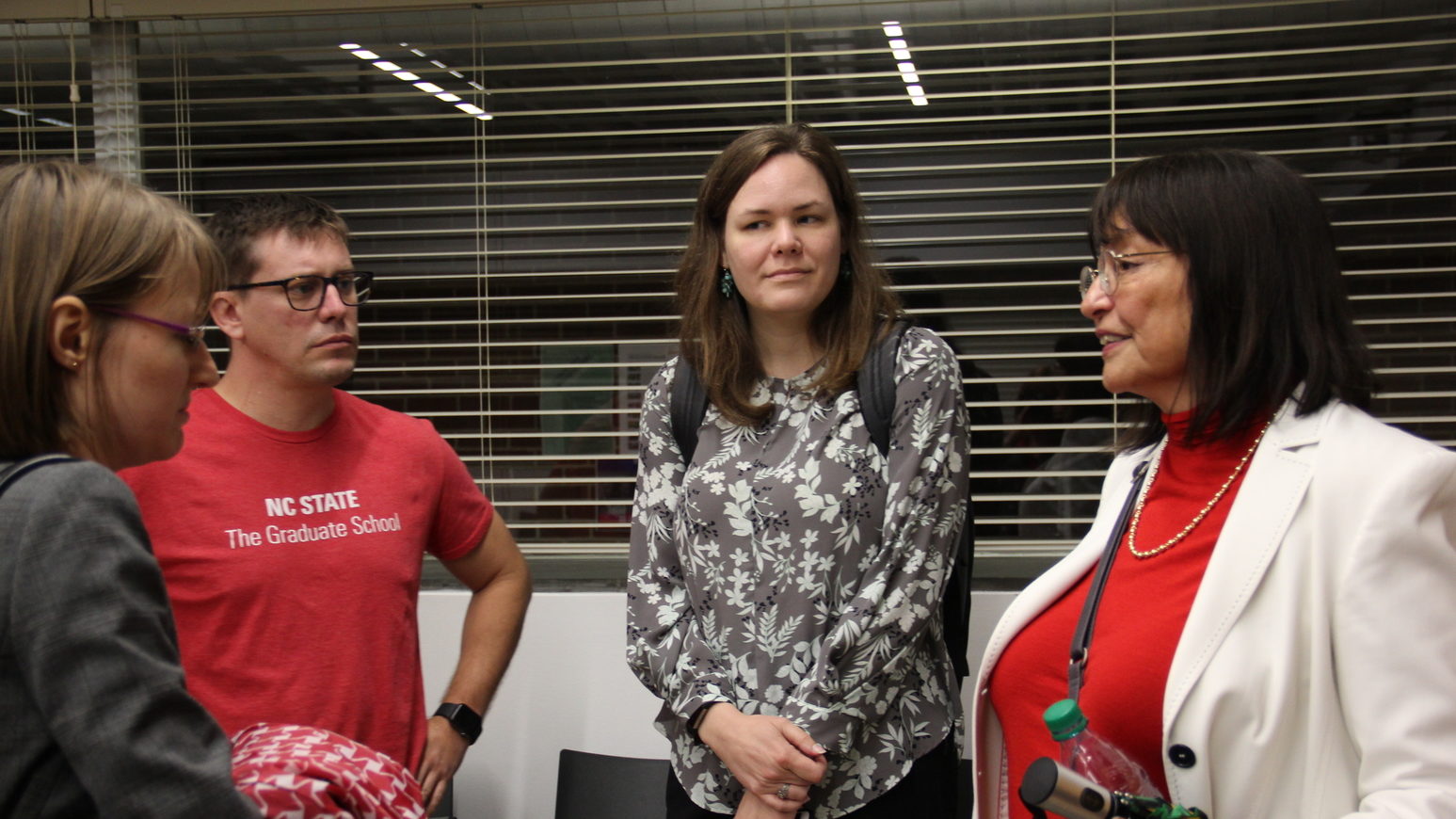 Having trained with Harvey Lodish, David Baltimore and Walter Gilbert, luminaries in the field of molecular and cellular biology who were also pioneers in the biotechnology industry, Lydia Villa-Komaroff's first important decision after completing a postdoc was to see if she could make a name for herself. She certainly blazed her own trail, not only in the research world but also in university administration, business, and outreach.
Lydia's research helped make the production of insulin more efficient. She's also led a small biotech company through a billion-plus dollar acquisition, served as chief executive and chief science officer of a start-up company and helped to establish an organization committed to increasing diversity in STEM — science, technology, engineering and mathematics. Quite a list of accomplishments, by any measure.
Lydia started her Notes from the Field seminar, sponsored by the Graduate School and given at NC State Nov. 7, mentioning that she wanted to share her career path and advice with the hope that the students and postdocs in attendance could learn from the lessons she's picked up along the way; some of the lessons were from mistakes she made.
A Single Yes Can Change Someone's Life
Early on, Lydia realized that she had an interest in science and also knew she needed to get out of her comfort zone by attending college outside her home state of New Mexico. She started her undergraduate work at the University of Washington where she had planned to study chemistry. An advisor there told her that chemistry wasn't for women and this interaction was a stark reminder of the challenges she and other underrepresented groups faced working in STEM in 1960s America.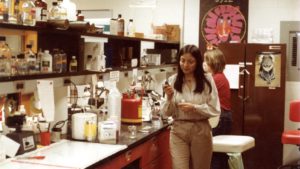 While at Washington, Lydia met her future husband, Anthony Komaroff, and moved out to Baltimore when he started working for the government in DC. She finished her degree in biology at Goucher College, a small liberal arts school, in Baltimore. Nearby Johns Hopkins University didn't enroll women until 1970.
When applying to graduate molecular biology programs in the Boston area where her husband would do his residency, Lydia didn't initially apply to the Massachusetts Institute of Technology, MIT. She didn't see herself there, partially due to its reputation as a male-dominated engineering school. However, one of her undergraduate mentors, Loretta Levy, who ran a lab at the National Institutes of Health, said if she wanted to do molecular biology, she had to have MIT on her list of schools, given the reputation of their department. It was fortunate then that Lydia applied after all, as MIT was the only graduate program in Boston that accepted her.
The key lesson from this experience: You never know what will happen if you don't try for things. The result will surely be "no" if you don't try/ask.
Throughout her talk, Lydia emphasized repeatedly the critical role that mentors play in helping us in our development and careers. At MIT, she was co-mentored by David Baltimore and Harvey Lodish, being the first Ph.D. student there with two advisors. The setup worked well as she got to train with two world-class scientists. She also learned a lot about mentoring up (also see PDF version).
Postdoc Ups and Downs, and Faculty Roles
After a postdoc with Fotis Kafatos at Harvard University and Tom Maniatis at Cold Spring Harbor Laboratory, where most of her experiments failed for the first couple of years, Lydia started working with Walter Gilbert, also at Harvard. For the first and only time in her career, everything worked in her first several months in the Gilbert lab.
The result was a landmark paper showing bacteria could be engineered to make proinsulin. This breakthrough allowed for insulin to be more readily available to diabetic patients, preventing countless deaths. Lydia's grandmother died of diabetes before this breakthrough. She and the rest of the team also received patent royalties on the technology for a 20-year period.
The lesson: Most experiments fail. Knowledge, skill, perseverance, timing, and a bit of luck often have to come together for success in science.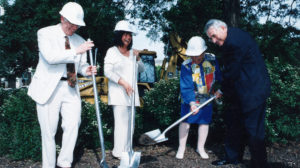 Lydia landed her first faculty position at the University of Massachusetts Medical Center (UMMC) within a year of working with Gilbert. As an assistant professor at UMMC, she noted that she got involved in too many committees and other service responsibilities and was not as productive in her research as was expected of a tenure-track assistant professor. Thus, she was worried about her tenure decision. While she ultimately got tenure at UMMC, Lydia advised those in attendance at her seminar to make sure they prioritize their research and teaching responsibilities early in their faculty careers. "Learn how to say 'no' and prioritize your time. You can get more involved in committee work after tenure."
Another piece of advice Lydia would give herself as a young scientist & faculty member: Don't worry so much and focus on the items that are critical to your success.
After getting tenure at UMMC, Lydia took an untenured position at Children's Hospital Boston/Harvard Medical School. The position required her to bring in grant dollars to support her lab and a portion of her salary. While the position was more prestigious and she could focus exclusively on research, the pressure to support her lab was real. She was very productive during this time, though. In fact, over her academic career, Lydia has published over 50 papers in leading journals.
Research Administration and Corporate Work
During her time at Children's Hospital in Boston, Lydia realized she was good at administrative work. Word evidently got around, and a headhunter reached out to her regarding an open position as associate vice president for research at Northwestern University. Although hesitant at first given that Lydia and her husband would be located nearly 1,000 miles from one another, she agreed to take the job after Tony and she made a commitment to see each other every other weekend. Lydia became Vice President for Research after two years, and loved her time at Northwestern, staying at the university for seven years.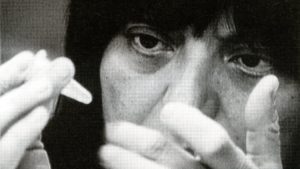 While at Northwestern, Lydia was offered the opportunity to take the Kellogg School of Management's 1-month "business in a box" program which gave her many skills needed to succeed in a corporate setting. This would come in handy in her current role and later on in her career.
In 2003, Lydia was offered a position as vice president for research and chief operating officer at the Whitehead Institute in Cambridge, MA, a leading research center for molecular biology and genetics by Susan Lindquist, the first woman to lead the Whitehead. The institute had been founded by her graduate school advisor, Baltimore, the offer allowed Lydia to move back to Boston, and the prospect of working with a female leader made the job very appealing.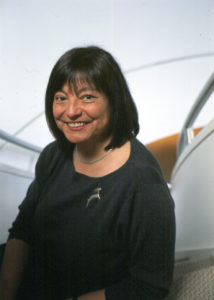 While at the Whitehead Institute, Lydia was also on the board of Transkaryotic Therapies, Inc., along with her former postdoc advisor, Gilbert. She was elected chairwoman during a turbulent time associated with a takeover offer for the company from Shire Pharmaceuticals. Half the board wanted to "cash out" and sell while the other did not. Lydia suspects she was given the chairwoman title as she was the only candidate both sides of the board could agree on and each thought they could influence her. Lydia had never chaired a corporate board responsible for overseeing the operations of a  for-profit company but sought out advice from several mentors on how best to handle this takeover offer. After doing their due diligence, the company was eventually acquired for $1.6 billion and still exists as the genetic research wing for Shire Pharmaceuticals.
Lesson: Sometimes you are ready for a job even when you don't think you are. The key is to know what you don't know and know who to call for unbiased, objective advice.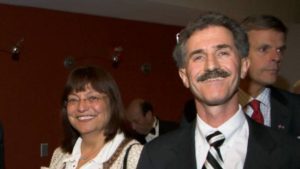 After seeing how she handled herself during this takeover incident, Gilbert wanted Lydia to help with his son's start-up company, Cytonome, Inc. When John Gilbert moved on to start other companies, Lydia became CEO and started raising funds during the height of the 2008 financial crisis. After finding no initial funding, the company had to layoff half of the employees, the executives took minimum salaries, and she mortgaged her house. The leadership, including Lydia, saw the value of the company's cell sorting technology and were committed to shepherd it through that trying time. In the end, Lydia eventually raised the necessary funding for Cytonome and the company is still in business today as Cytonome/ST, LLC.
A Life and Retirement Dedicated to Increasing Diversity in STEM
Reflecting on her childhood growing up in New Mexico as part of a large, Mexican-American family, Lydia mentioned that  her parents were both first-generation college students and the value of education was made apparent to her at an early age. Recognizing how the education, the research, and graduate opportunities she was afforded changed her life, Lydia has become a champion for increased diversity in graduate STEM programs and scientific careers.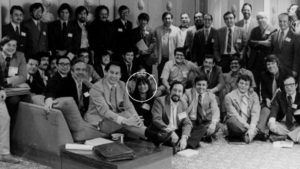 Lydia was at the first meeting when what would become the Society for the Advancement of Chicanos/Hispanics and Native Americans in Science (SACNAS) was formed. The first group that met in 1973 consisted of ~40 people, 20 or so who were Mexican/Native American, with the goal of increasing diversity in STEM. Now, SACNAS is one of the largest organizations dedicated to this mission of increasing diversity in the scientific workforce, with over 6,000 members, 20,000 supporters, and a record 5,000+ attendees at its 2019 annual conference.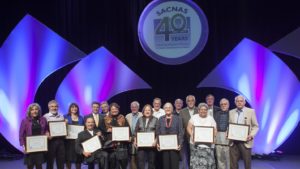 Upon her "retirement" from management in 2014, Lydia has become an even more active advocate for diversity in STEM, speaking to a variety of groups to make individuals more aware of the implicit biases we all have as a result of societal forces and our cultural histories.
Lydia currently lends her perspective on STEM diversity as a member of the National Science Foundation (NSF) Committee on Equal Opportunity in Science and Engineering and the Advisory Committee of the NSF Directorate for Social, Behavioral & Economic Sciences.
Take-Home Points
While there were many great lessons I took from Lydia's talk, one important idea that came through was the importance of seizing opportunities when they come your way…to not be afraid to branch out in your training and career.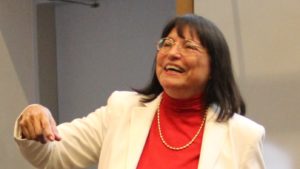 Another key point was the importance and value of developing strong relationships. Lydia's connections with her graduate and postdoc advisors and the reputation she built working with them were surely helpful in some of her later career moves. Baltimore's involvement with the Whitehead Institute put that job on Lydia's radar and Gilbert was on Transkaryotic Therapies' board and connected Lydia to her eventual role at Cytonome.
In the end, a lot of what we do in life is a collaborative process with others. No one is an island. The more we can support and see the value each of us brings, regardless of our background, race, or sex, the better we can advance not only science but the world in general.
---
Read more about Villa-Komaroff's work in increasing science diversity and her role in SACNAS. Also, check out her women scientist profile/interview and iBiology videos on a range of topics from diversity to her motivation to pursue science.
Some book recommendations from Villa-Komaroff