Alumni Success
GLAM Alumna Brings E-Commerce Experience to NC Luxury Brand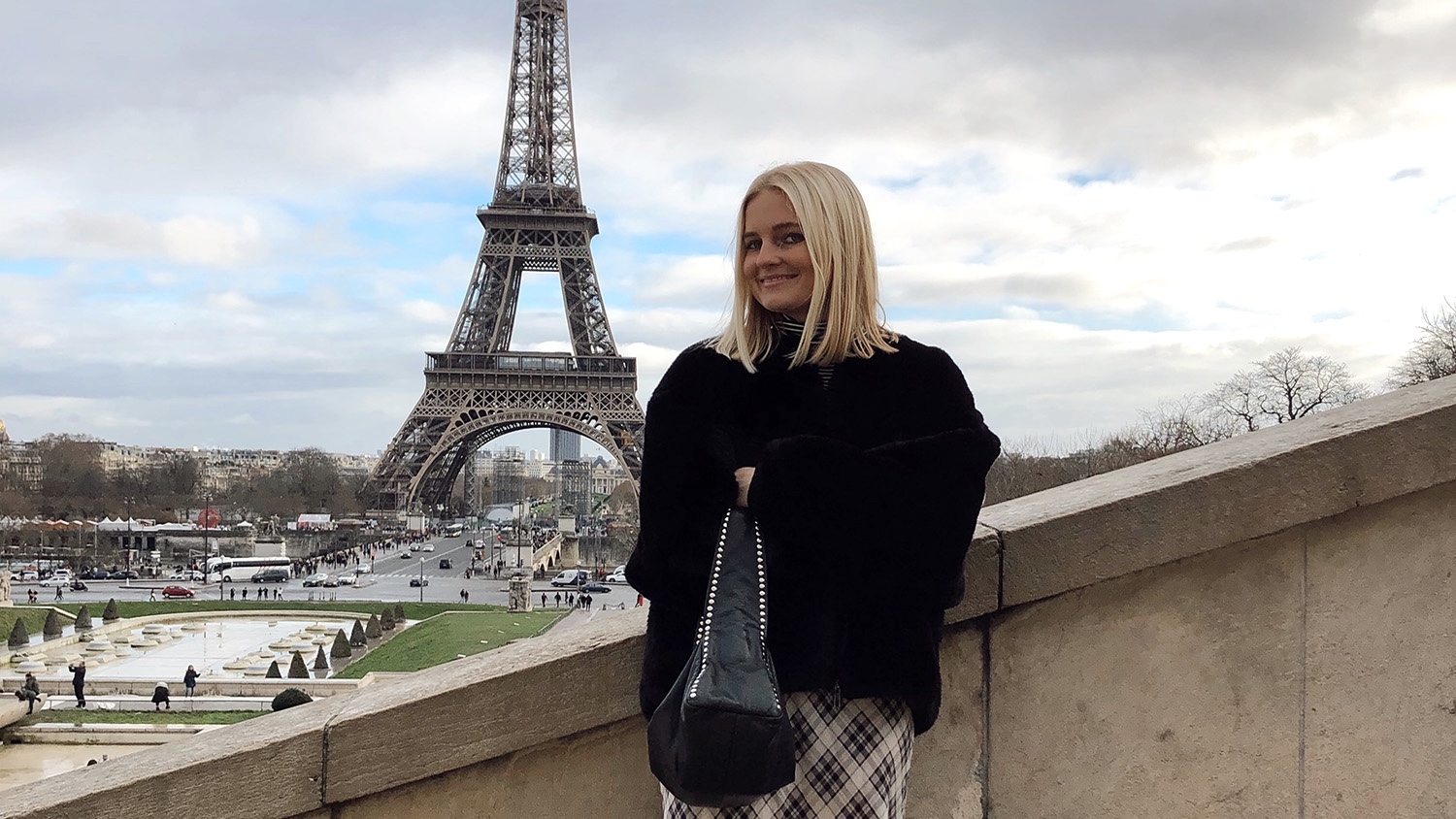 When Macie Flynn was a Global Luxury and Management (GLAM) graduate student, she met GLAM advisory board member Lyn Conger at a networking event in New York City. They talked about their mutual ties to Charlotte and how Instagram can be an effective marketing tool for a business.
Conger admired the use of Instagram by Hampden, an upscale women's clothing store in Charleston where Flynn worked before she enrolled in the GLAM program. Flynn discussed with Conger her passion for e-commerce.
Their talk led to a three-month, full-time, paid internship for Flynn in 2020 at Taylor Richards & Conger (TRC), the luxury clothier in Charlotte of which Conger is a managing partner. Afterward she accepted full-time employment with TRC.
"I took what I learned from GLAM and Hampden, and now I'm using it all to make e-commerce work for TRC," the 2020 graduate says.
And it's working very well — e-commerce sales have increased every month since last May, and the women's Instagram account, which Flynn manages, has more followers now.
That's a huge relief for Conger because covid-19 has presented his biggest business challenge since his career began in 1982. TRC was closed for two months early on in the pandemic.
"I felt we needed a larger footprint relative to our position in our industry. Being a conventional brick-and-mortar store with limited marketing capabilities other than conventional advertising, we, like other successful retailers, had to embrace an e-commerce platform," he says.
Flynn has helped TRC embrace e-commerce by creating an engaging, user-friendly website that offers visitors a memorable experience, creating a LinkedIn presence for the store, enhancing Instagram with consistency in photography and other measures.
Before the pandemic, TRC's bare-bones website was not interactive. Now, it stands out to other businesses in the upscale clothing industry. "People say our website is better than any independent clothing store that uses an e-commerce platform," Conger says. "The presentation is really beautiful."
A striking presentation is important to draw a wide range of customers, geographically and age-wise.
"Having the security blanket of the website for customers anywhere in the world to see what TRC has to offer puts the store at ease during a global pandemic," Flynn says.
In the internship, she created the TRC website from scratch, teaching herself coding, Photoshop and other functions. "I drew from my own user experience shopping online to make the website what I thought people would want," she says, "and as easy to use as possible."
In addition to the internship, GLAM courses on business management and public speaking, and learning about supply chains and margins in the program, helped prepare Flynn to succeed at TRC.
GLAM is a joint program of Poole College of Management's Jenkins Graduate School of Management and SKEMA Business School's Paris campus. Students earn a master's of management degree with a concentration in global luxury from NC State and a master of science in global luxury management from SKEMA.
"She had great traction early on, given her background and experience," Conger says. "What we needed — and Macie has fulfilled it — was a full-time social media/technology person. She has the capacity to sell as much as anyone working in the store. The objective is to make e-commerce a viable sales path that could compete with any salesperson."
He plans to grow TRC's e-commerce to represent a significant percentage of sales.
"Macie has raised the bar for our ability as a specialty store to really polish and professionalize our overall marketing effort. Accordingly, that has enhanced the e-commerce platform through real business transactions," says Conger, who earned a bachelor's degree in business management from NC State in 1982.
Flynn's work at TRC hasn't been without challenges, from creating the website to learning about men's clothing. "I couldn't even tell you an average men's shoe size when I started," she says. "I'm still learning a lot."
Despite challenges, it's rewarding for her to see promising results from her work.
"My favorite part of my job is when I send an email to our subscribers, and within a couple of minutes there's an online order. I can definitely see the work I'm doing having a direct impact on our sales," Flynn says. "I really see myself having a future in e-commerce. Having someone order something from an email…shows that that's the direction the fashion world is headed."
This post was originally published in Poole College of Management News.