Alumni Success
Meet Marcus Howard
"I Want to Build the Capacity in Students from Disadvantaged Backgrounds to Believe in Themselves and Help Them Reach Their True Potential"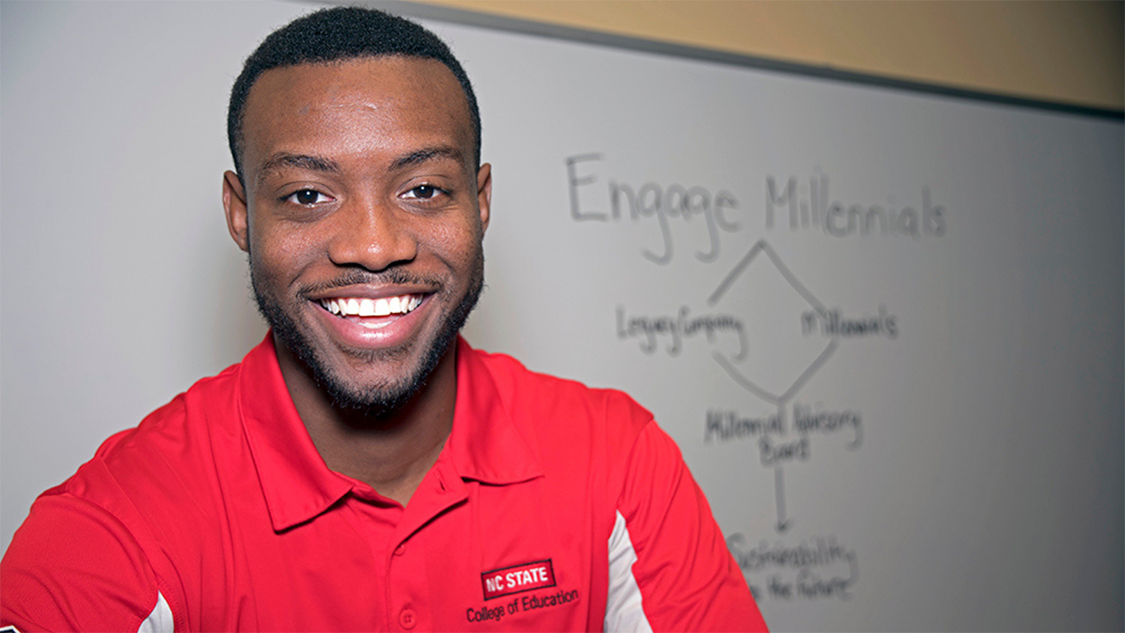 When Marcus Howard '20PHD thinks about the future of work, he thinks about his goal to prepare adults with the skills they will need for the 21st century. During his time at the NC State College of Education, he has worked toward that goal, while also helping found and lead NC State University's Black Graduate Student Organization and filling in as a recruiter for the college. Now, he will work toward shaping a new and diverse generation of learners.
Learn more about Marcus Howard
Hometown: St. Louis, Missouri
Area of Study: Educational Leadership, Policy, and Human Development with a focus on Adult, Workforce, and Continuing Professional Education
Why did you choose the NC State College of Education?: 
North Carolina has many prestigious and top-ranked colleges and universities; however, the NC State College of Education's commitment to social justice, global diversity and building practical skills to solve emerging global issues set it apart. Ultimately, I was looking for an environment that would support me to the finish line and help me develop the knowledge, mindsets and skills to become a 21st century leader in education. 
Why did you choose your area of study?
I chose my area of study because the fourth industrial revolution is creating a demand for millions of new jobs, with vast new opportunities for fulfilling people's potential and aspirations. As the future of work continues to shape the next wave of the 21st century, it is important that adults are prepared to adapt and develop the skills needed to be productive in an emerging new world. I want to be one of the leaders preparing adults for the next wave of living, working and learning in the 21st century. 
What's your next step? What do you have planned after graduation?
I will continue leading regional education innovation work for Teach for America. My work focuses on creating the conditions to accelerate the pace of innovation and create pathways for young people in disadvantaged communities, so they are prepared to live, work and learn in the next wave of the 21st century. I am inspired by this work because of my unrelenting belief that the antiquated education system that currently exists perpetuates grave inequalities for students furthest away from opportunity. 
How has the College of Education prepared you for that next step?
The NC State College of Education helped me to develop the knowledge, mindsets and skills to excel in my current work. Courses in adult learning theory, leadership and program evaluation provided me with the knowledge needed to lead the development of new programs and strategies for my team. Courses in diversity and equity helped me to see how inextricably linked innovation and equity should be in order to yield the desired outcomes for all students. Rigorous training in qualitative and quantitative research prepared me to lead regional research and development efforts that informed new innovation efforts in education.
Do you have a favorite memory from your time in the College of Education?
My favorite memory from my time in the College of Education was working as a graduate assistant for Associate Dean for Student Success and Strategic Community Engagement Anona Smith Williams, Ed.D., and filling in as a temporary College of Education recruiter. It was an unforgettable experience being able to travel across the state to speak with high school students about being a teacher. I was able to connect with teachers across lines of difference and had a great time integrating my personal teaching experiences into the dialogue. It made me feel hopeful about the future of education.
Tell us about an experience you had with the College of Education that had the biggest impact on you or your career.
The experience that had the biggest impact on my career was working closely with senior leadership to lead NC State's first Black Graduate Student Association. I received overwhelming support from the College of Education and was able to create an organization that continues to offer and promote close association and mutual support for the Black students who are navigating new and challenging experiences during graduate school. This experience required me to use all of my newfound skills in research, program development, fundraising and leadership to lead a new organization on campus. This experience would also eventually manifest into leadership efforts outside of NC State.  
Why did you choose education?
I chose education because I want to build the capacity in students from disadvantaged backgrounds to believe in themselves and help them reach their true potential. I want to ensure young people who grew up in a similar environment as myself could see themselves becoming change makers who had the potential to change the world. I believed that in order to achieve this goal I had to go into the single most important profession, teaching. 
This post was originally published in College of Education News.