Enhancing Student Success
The Power of Mentorship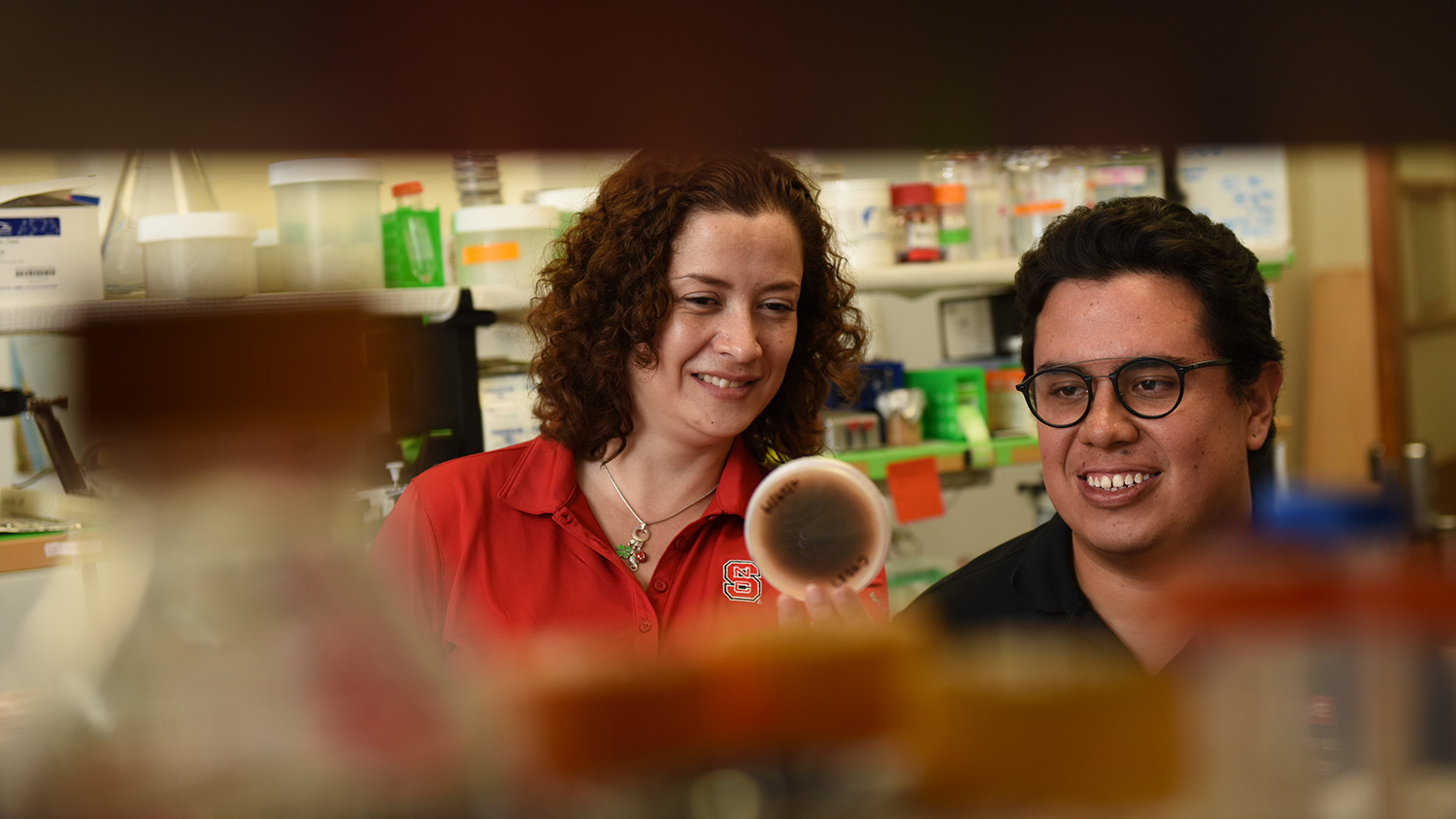 Someone in Your Corner
A student's relationship with their advisor can make the difference between achieving professional success and fumbling on the fringes of academia.
Fortunately for native Colombian and Ph.D. candidate Camilo Parada Rojas, he found his match in Lina Quesada-Ocampo, professor of vegetable pathology and University Faculty Scholar, who served as Rojas' FFAR Fellows faculty mentor.
Their partnership began just as the regional re-emergence of black rot, a fungus that causes a dark brown discoloration and decay of sweetpotatoes, swept through North Carolina (usually detected after harvest). The fungus ravaged sweetpotato crops in North Carolina starting in 2014 and is a problem that persists today. Quesada-Ocampo's lab worked to help farmers mitigate the crisis by employing fungicides to control the fungus. A longer-term goal involves eliminating the fungus by engineering a pathogen-resistant sweetpotato.
Parada Rojas worked with Quesada-Ocampo as a visiting scholar before she recruited him to do his master's (and later Ph.D.) in plant pathology. When they heard about FFAR Fellows, they knew it was a great opportunity. Sponsored by the North Carolina Sweetpotato Commission, he became a member of the FFAR Fellows' inaugural cohort in 2018.
The NC State-led Rockey FFAR Fellows Program boasts 93 participants from 30 universities. The program offers a unique blend of professional development training, personality assessments, industry sponsorships and mentorship to help prepare students for productive and fulfilling careers. It's one of the few programs that provide research funding for international students.
"I like the partnership aspect and the focus on implementing well-rounded training," says Quesada-Ocampo. "It's not just about research; it's about how to interact with your peers, other scientists, federal agencies, regulatory agencies, state agents and other stakeholders. The FFAR Fellows Program brings realism to the task of solving agricultural issues. It's not just about doing great research; it's about partnering with the right people and penetrating the bureaucracy."
Having worked in Quesada-Ocampo's lab since starting the plant pathology graduate program, Parada Rojas has benefited from Quesada-Ocampo's support and guidance via daily lab work and bi-weekly and monthly check-ins. They also had regular meetings with their project collaborators. Daily duties in her lab simulated the rigors of an 8-to-5 workday, adding a reliable framework to keep her students focused.
"Thanks to Lina's mentorship, I am who I am right now. Her support has been essential to my professional development," Parada Rojas affirms. "She creates the structure that graduate students sometimes don't get. The structure keeps us from feeling lost. She helped me organize a research program, remain competitive, and move forward with all our projects."
Quesada-Ocampo comments on Parada Rojas' development during his FFAR Fellows experience: "His growth has been amazing. He's more effective in presenting information, engaging with collaborators, understanding how to move the projects forward and understanding the obstacles for growers or producers."
Communicating Stories to Media
Mentorship involves not only advocacy but challenging one's methods of communication.
FFAR Fellows training is unique in how it prepares students to engage with the media. Scientists who present their research to journalists and other media outlets should know how to share their research stories with stakeholders.
For several sessions, Parada Rojas and other FFAR students engaged with a panel of science journalists who worked at different outlets: science magazines, nature briefings and media outlets. These journalists formed a committee where FFAR Fellows pitched their research projects as an exercise.
"We prepared short pitches and tried to anticipate their questions," Parada Rojas recounts. "During my first session, the journalists were very persistent. Whatever I said, this particular journalist kept digging and digging and digging. And I thought to myself, 'Oh! This is interesting.' Graduate students don't get that perspective when doing our research."
Initially, Parada Rojas struggled to convey his ideas to the journalist. "I was making an argument about climate change and how we should be very cautious because as the climate warms up, we'll start to see the emergence of more and more pathogens."
However, the journalist continued to emphasize climate change, shipping sweetpotatoes across the globe and the emission of greenhouse gases.
"I thought I was telling the journalist exactly what I needed to tell her, but she understood a different story from my words. This event gave me context as to how I can better communicate my research."
As Parada Rojas kept practicing, he refined his story and made sure he was specific and clear about his research goals. After a final round with the journalist, he realized, "Wow! Now I can explain my research in a better way."
The timely and skillful transference of scientific knowledge to the general public is critical in advancing scientific research that applies to real-world issues.
From Research to Application
Parada Rojas is nearing the completion of his doctorate. With a new position around the corner, he dreams of fulfilling his future goal of becoming a university faculty member.
"I recently accepted a position at Oregon State University as a postdoctoral scholar. FFAR helped me with the interview process. It was exciting to use some of the skills I learned, including communicating my research." Parada Rojas also demonstrated his experience mentoring NC State undergraduate students and his soft skills gained through FFAR Fellows.
When he arrives at Oregon State University, he can apply the CALS research he helped advance to a new technology that can change how we diagnose and treat plant pathogens in the field.
At Oregon State University, Parada Rojas will help design the next generation of diagnostics for plant pathogens. Researchers are pioneering a test for plant pathogens like how one procures a COVID-19 test to determine whether or not one has the disease-causing virus.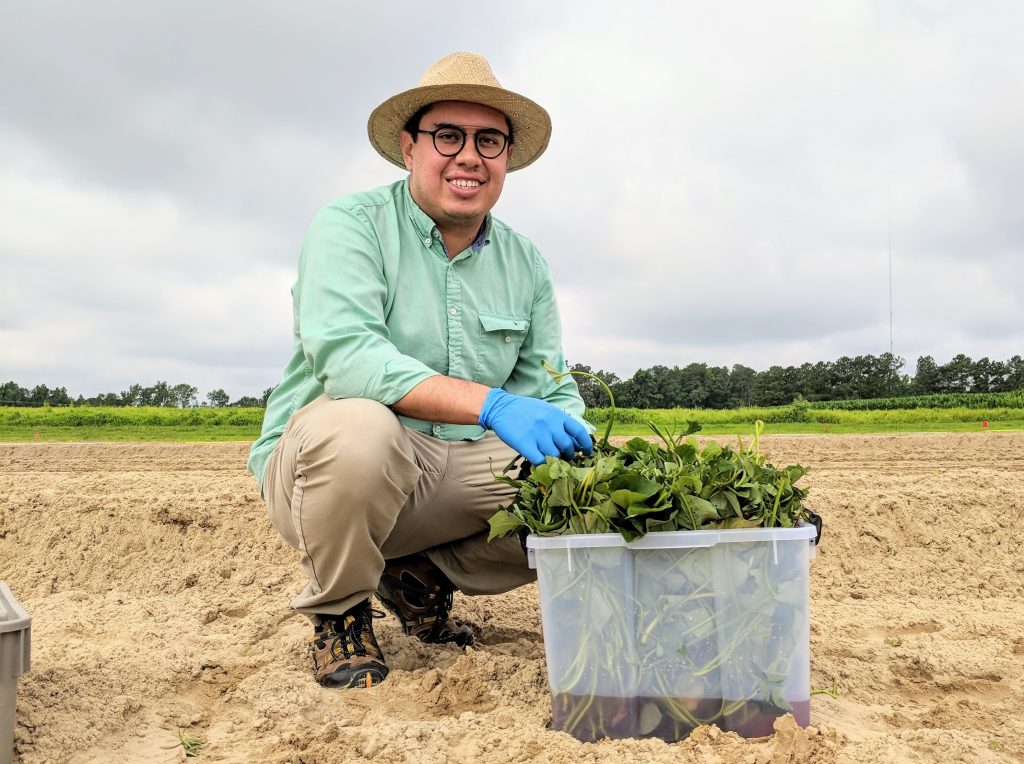 Getting Science to the Field
FFAR Fellows work on real-world agricultural problems and bring innovation to big agricultural challenges through partnerships and investment from influential stakeholders.
"Plant pathologists can look at issues from a basic level, but we're constantly asked how we solve the problems," says Parada Rojas. "We're forced to look at our research in an applied way. We're translational in the way that we explain our science."
FFAR Fellows are not only asked to do great science but also to be agricultural leaders. "Science that stays in papers doesn't benefit anyone," says Quesada-Ocampo. "I think companies have much to gain by supporting a FFAR Fellow."
Through intentional mentorship, industry training and job preparedness, FFAR Fellows understand what it takes to get science to the field and for producers, growers and companies to adopt their applied research. For more information about the Rockey FFAR Fellows Program, contact Program Director Rebecca Dunning, Ph.D.
For more information about the Rockey FFAR Fellows Program, contact Program Director Rebecca Dunning, Ph.D.
This post was originally published in College of Agriculture and Life Sciences News.