Events
Graduate and Professional Student Appreciation Week
April 3-7 the Graduate School supports and recognizes Graduate and Professional Student Appreciation Week.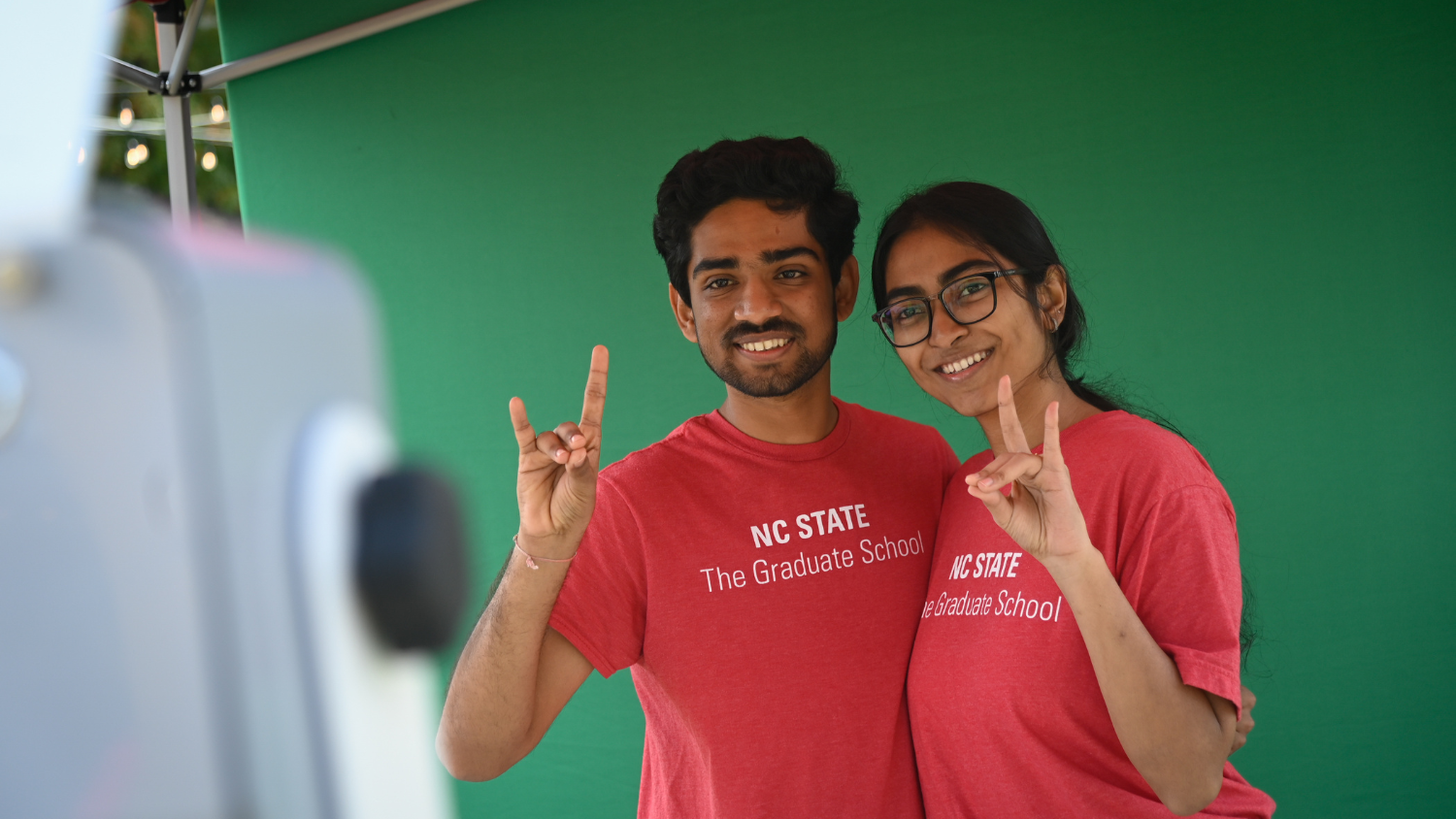 April 3-7, 2023 we recognize the many contributions our NC State graduate and professional students make to research, teaching, our state, and beyond.
Graduate and Professional Student Appreciation Week was started in 1993 by the National Association of Graduate-Professional Students as a way to support and appreciate graduate and professional students. The week seeks to emphasize the contributions, impact, and value of graduate and professional students on campuses throughout the United States.
"Graduate and professional students are a vital element of NC State. They contribute in a myriad of ways to the 'Think and Do' approach that exemplifies the institution's mission to address critical issues impacting North Carolina, the nation, and beyond. Therefore, it is only fitting that we celebrate their contributions to the university's academic and research missions during National Graduate and Professional Student Appreciation Week." – Dean Peter Harries
During this week the Graduate School in partnership with the Graduate Student Association (GSA) will recognize, appreciate and celebrate all that is extraordinary about our GradPack!  See a list of events and activities below.
Monday, 04/03
Donuts on the Dean – 10 a.m. | Centennial Campus
We want to appreciate the contributions of our graduate students. Stop by the Graduate School table, grab a donut on the Dean and learn about the many resources available to graduate and professional students.
Wicked Lunch Break – 12:15-12:45 p.m. | The Corner on Centennial Campus
Bring your lunch and an appetite to walk through the realms of horror films. Wicked Lunch Break is a short film series dedicated to scaring you awake to start your week.
Mindful Monday – 12:15–1 p.m. | Centennial Campus (Research Building IV, Suite 1700)
As part of the Centennial Wellness programming, join us for a FREE relaxing yoga class on Centennial campus in Research Building IV, Suite 1700.
Graduate Student Spotlights Digital Kickoff – grad.ncsu.edu
Our vision is simple, leadership and innovation in graduate education. Graduate students are the engine that drives this research enterprise, and the #GradPack Think and Do the Extraordinary every day, which is why we've started our Graduate Student Spotlight series to highlight our graduate and professional students.
Tuesday, 04/04
Grad Swag Bag Giveaways – 11 a.m.-1 p.m. | Centennial Campus and Wolf Plaza
We're getting out and about to find a few graduate students to share some cool swag with. We'll be putting together some swag bags like the one pictured below to give out throughout the day.
Midday Movement – 12:15-1 p.m. | The Corner on Centennial Campus
Experience tai chi with Maestra Imari from East Cloud Kung Fu. The tai chi-based movement sessions are free and will be on Tuesdays and Thursdays, starting March 21 and continuing until April 25. No experience or material is required.
Wednesday, 04/05
*Graduate Student Research Symposium – 1 p.m. | McKimmon Center
The 16th Annual Graduate Student Research Symposium, held each spring, includes poster presentations from more than 200 graduate students from NC State University. The goals are to showcase the outstanding quality and diversity of graduate-level research at NC State, in addition to providing students with the opportunity to practice and enhance their communication skills with those outside of their discipline.

The event is sponsored by the Graduate School and the Graduate Student Association and is open to the public.
Wellness Wednesday – 12:30-1:30 p.m. | Virtual
Our well-being impacts our lives in a myriad of ways, so understanding how to best manage ourselves is an important part of our development. Dr. Rhonda Sutton, the (new) assistant dean for professional development in the Graduate School, will be offering 1-hour "Wellness Wednesdays" during the spring semester on Zoom. Sign up!
Thursday, 04/06
Local Lunch Live – 12:15-1 p.m. | The Corner on Centennial Campus
WKNC's Local Lunch Live is a partnership with NC State's Visit Centennial Campus to showcase student performers. All WKNC Local Lunch Live events are free and open to the public. Bring your lunch or grab a bite at one of the food trucks often parked across the street.
LIVE at Lake Raleigh Event and Food Trucks – Food Trucks 5 p.m. | Concert 6 p.m. | Centennial Campus
NC State LIVE is kicking off the season with modern salsa sounds from Latin big band Orquesta GarDel. In addition to your picnic blankets, bring your dancing shoes and get ready to move to the high-energy rhythms of Latin America. Come out and hear Orquesta GarDel.
Thankful Thursday (Social media posting challenge) – All day
Tell us what you're most thankful for via Twitter, IG or Facebook and use the hashtag #GradPack for a chance to win a prize. Will also encourage you to tag us @ncsugradschool (Twitter) | @ncstategradschool (IG/FB).
Friday, 04/07
FIT- MindBody – 1-1:30 p.m. | Wellness and Recreation
Flow through a sequence of poses designed to increase strength, flexibility, endurance, and balance. This class will be a journey where there is no competition, judgments, or expectations to allow for a deeper experience. Great for all levels of practice. Register here
Let's Climb Together – 2-3 p.m. | Wellness and Recreation Climbing Wall
The Climbing Center consists of two types of indoor climbing: roped climbing and bouldering. The roped climbing walls range from 35 to 48 feet high, while the open bouldering wall is 10 feet. Bouldering is available for drop-in use any time the Wellness and Recreation Center and Carmichael Gym is open, while roped climbing has set hours where staff are on-site.