About NC State
Ag Teacher Earns Third NC State Degree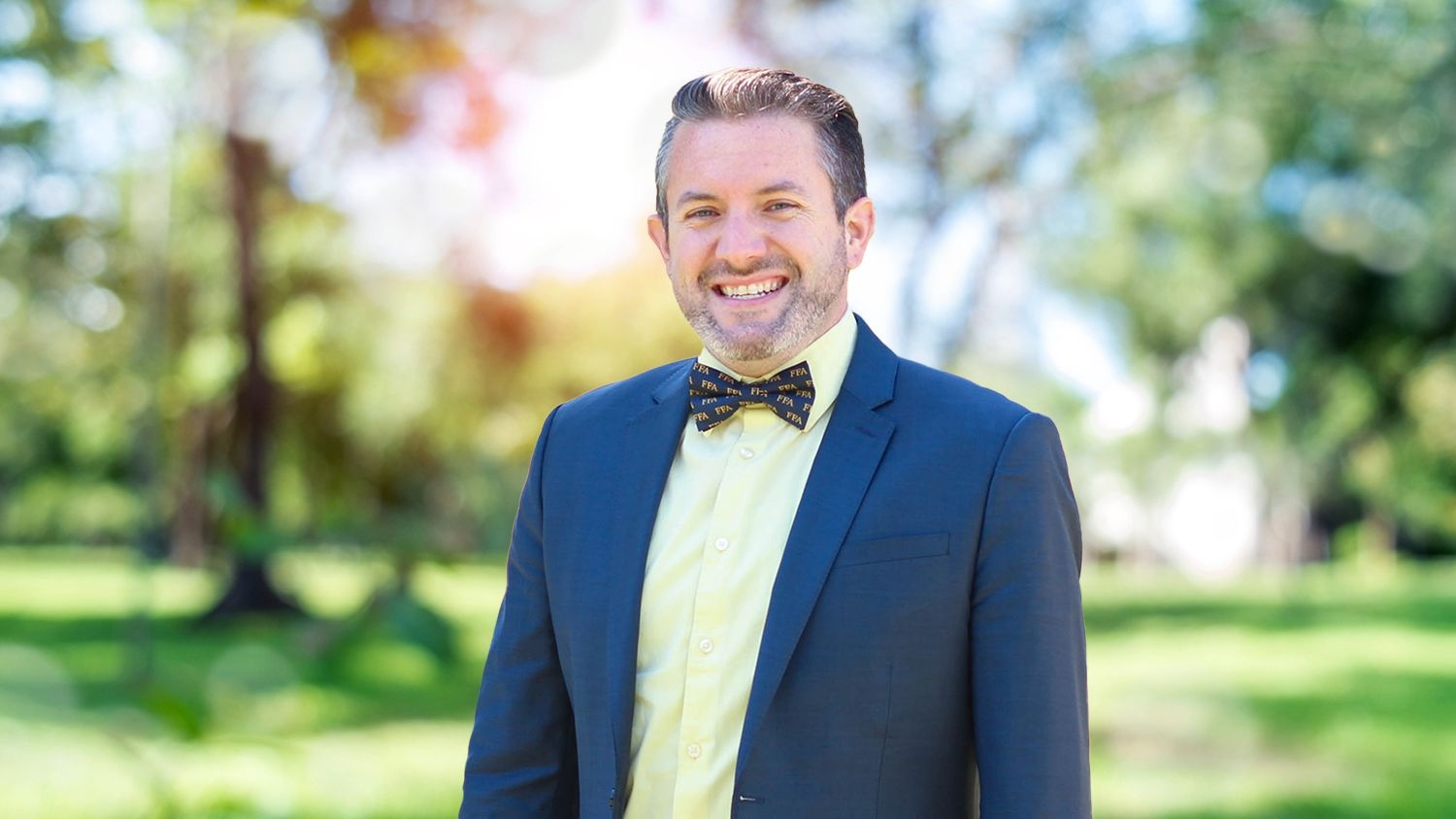 Jason Bullock grew up with agriculture and education. The Lumberton, North Carolina native's parents were educators in his hometown and had a hobby farm producing peanuts, watermelons, sweet potatoes and Irish potatoes. His family and his local agriculture teacher, Jimmy Roberts, influenced his decision to become an ag teacher.
Bullock will be graduating soon with his third degree from North Carolina State University, a doctorate in agricultural and extension education from the Department of Agricultural and Human Sciences.
Bullock attended NC State for a bachelor's in agricultural and extension education to pursue his own career in education. During his undergraduate studies, Bullock was a member of the Agricultural and Extension Education Club. He also worked for University Catering, an experience that provided some valuable takeaways. 
"It allowed me to walk into spaces that I probably wouldn't have otherwise," Bullock says.
After graduating with his bachelor's, Bullock returned to his former high school to teach agricultural education. He taught there for eight years before teaching at a community college, but his passion for working with FFA brought him back to his high school to teach for four more years. During this time, Bullock earned a master's degree in agriculture education online through NC State.
Joy Morgan, an agricultural and extension education professor at NC State, reached out to Bullock to encourage him to pursue a doctorate. He completed the first two years of his doctorate degree on campus at NC State, but when he accepted a position as the executive director of the Washington FFA Association, he moved across the country and continued his education virtually.
Bullock then returned to the classroom and began teaching plant biology and veterinary science at Lincoln High School in Tacoma, Washington. The FFA Club had been inactive for eight years before Bullock brought it back to life.
Bullock likes teaching his students about a topic in the classroom and encouraging them to use the skills. He also enjoys giving students new opportunities and taking them on field trips to show them glimpses into agriculture.
Bullock has combined his passions for agricultural education, FFA and inclusivity to create a welcoming and accepting community in the school.
"If I have the skills, abilities or knowledge to help someone, then I will jump to do it."
"I am now confident and comfortable in being my authentic self… representation is huge to me, and I want to be that mentor, confidant and motivator in my student's lives," Bullock says.
Following Bullock's graduation, he plans to keep teaching at Lincoln High School. He loves how diverse the school is, and he has visions and goals that he wants to see through.
Bullock also wants to continue to serve others. He says, "If I have the skills, abilities or knowledge to help someone, then I will jump to do it."
This post was originally published in College of Agriculture and Life Sciences News.