Applications Open for Summer Industry Program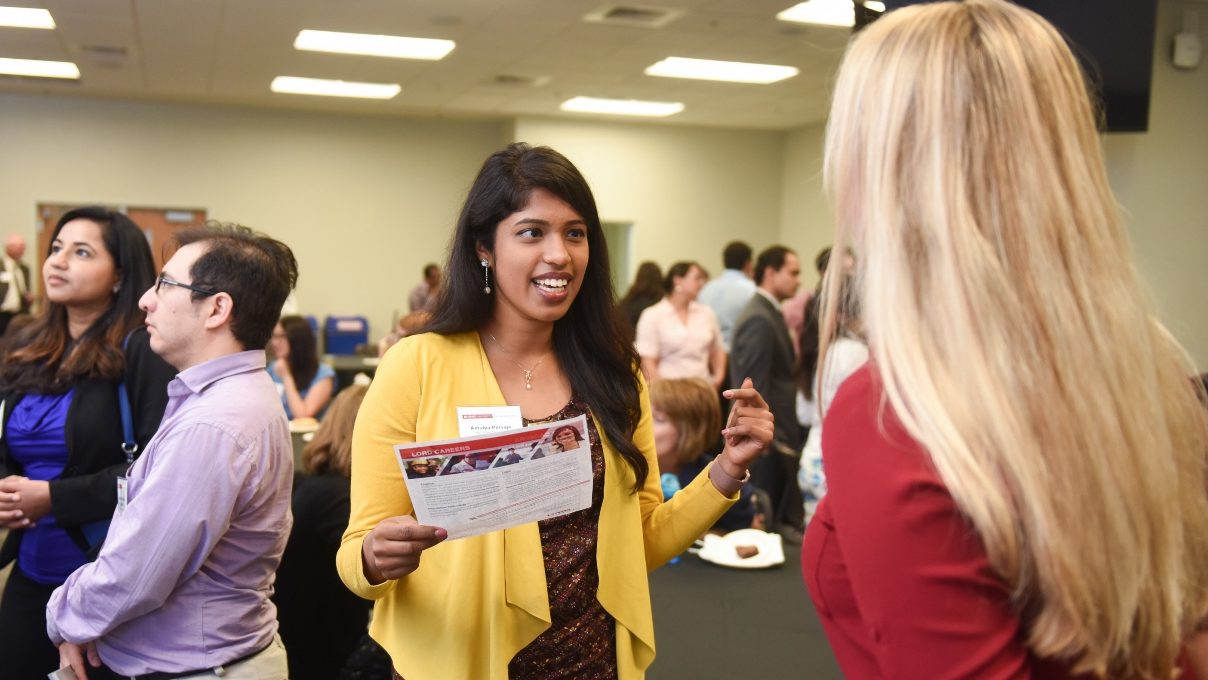 Applications are now being accepted for a summer industry careers program offered by NC State's Graduate School. The program, open to Ph.D. students, postdoctoral scholars and alumni, will introduce participants to possible careers in industry through an intensive week-long experience.
Last month, the Graduate School's professional development team announced the launch of its Accelerate to Industry (A2i) program, a new initiative designed to increase awareness among postdoctoral researchers and graduate students about the growing range of industry career opportunities, as well as the business and professional skills sought by today's hiring executives.
This summer's A2i Immersion Week will be held July 29-Aug. 3 at Hunt Library. Participants will engage with industry leaders and corporate executives through one-on-one meetings, small-group activities and social events designed to foster personal and professional connections.
Two founding partners from last summer's Industry Immersion Program, LORD Corporation and Eastman Chemical, have signed on to support this summer's A2i Immersion Week. In addition, ABB and Precision Biosciences will join A2i Industry Week as sponsors. Participants will have the opportunity to interact with these sponsors during the immersion week.
Based on the positive response to last summer's pilot Industry Immersion Program (IIP), this year's summer A2i Immersion Program will expand the number of participants from 50 to 60.
Selected through a competitive process, last summer's participants interacted with more than 65 representatives from 25 companies. They engaged in activities designed to help them better understand key concepts of corporate culture and operations, including business development, market assessment, regulatory affairs, intellectual property and technology evaluation.
In addition to supporting students at NC State, the Graduate School's professional development team wants other universities to benefit from their knowledge and experience with A2i. Several other institutions are considering implementing A2i, now an officially trademarked NC State program.
Graduate School Assistant Dean Laura Demarse and A2i Program Director Jason Cramer are already working with University of Florida faculty and staff to put A2i into action there. Other universities can also join with A2i to create an industry careers program for their own graduate students, without having to reinvent the wheel.
As the university community grows, Demarse said the Graduate School would like to offer an annual meeting to train university partners and to learn from others' experience.
Interim Graduate School Dean Peter Harries applauds the program, its participants and partners. "We fully intend for the NC State Graduate School and A2i to become a leader and national model in transforming graduate and postdoctoral workforce readiness," Harries said.
In addition, to the summer program, the professional development team will roll out A2i learning opportunities for all graduate students throughout their academic careers, Cramer said. Students are encouraged to fill out an interest form to receive more information about these opportunities.
Other A2i programs will include:
Team practicum: Through A2i Industry Team Practicum, groups of 4-5 participants will be paired with a company seeking a solution to a particular challenge.
Job search strategies: A2i Industry Joe Search Strategies are half-semester workshop series to help participants prepare for their job search.
Site visits to local industries: Once or twice a semester, the team will take a group of students and postdocs on A2i Industry Site Visits to allow them to learn about the companies and for the companies to get to know the students.
Internships: A2i Industry Internships will recruit students and postdocs for internships that will help them evaluate the companies as prospective employers.
Here's what others are saying about A2i:
Tova Williams, a Ph.D. student in textiles and National Science Foundation Graduate Research Follow, participated in the Industry Immersion Program last summer. In a column that appeared in the Graduate School's Think Magazine, Williams described five lessons she learned from participating in the IIP. "I made more than just industry connections," Williams wrote. "The program allowed me to connect with 49 other graduate and post-graduate researchers passionate to seek careers in industry. I worked with a phenomenal team to pitch a new product idea, and I am confident that we will continue to keep in touch long after the program."
Harold Freeman, NC State professor of textiles and Williams' advisor, was impressed with the impact that the IIP had on Williams and another of his graduate students. "This program armed them with the tools needed to compete for career opportunities and enjoy success in an industrial setting," Freeman said. "Interestingly, both also quickly identified ways to use this week-long experience to enhance the effectiveness of their graduate research agenda."
Nicholas Kraft, lead principal scientist at Centennial Campus partner ABB, was also impressed by his experience at the 2017 summer program. "The week provides a much-needed venue for companies to showcase their values, ideas and employees to a diverse pool of talented and enthusiastic researchers," he said. "The program provides real, substantive opportunities for industry partners to work with top students in a collaborative setting, providing real-life exposure to the insights and skills that will help them to thrive early in any career setting."
Founding sponsors of the summer program are BASF, Lord, Eastman Chemical and NC State alumnus Sameer Tendulkar, all of whom contributed financial support for the 2017 Industry Immersion Program.
Graduate students, postdocs or alumni interested in participating in the A2i program should contact Jason Cramer for more information.
Related links:
Find out more about A2i and fill out the interest form
Learn more about the 2017 Industry Immersion Program