What is Accelerate to Industry (A2i)™?
The Accelerate to Industry™ program is a bold, new approach to enhance graduate and postdoctoral industry workforce readiness. A2i activities include the following events:
Development series
Semester-long team projects
Workshops
Seminars and career panels
A week-long industry immersion experience
Company site visits
Internships
The Accelerate to Industry™ approach is modular, and students can benefit from any one activity without necessarily completing the others. As such, A2i is scalable, and other institutions can implement the components that best suit their needs, according to available resources. This program was formerly known as the "Industry Immersion Program".

 Are you curious about industry careers? Do you possess the skills that industry companies seek?
Beyond technical prowess, those who hold advanced degrees, especially doctorates, are expected to apply tactics associated with the following core competency areas in the corporate environment:
Leadership, communication, and teamwork
Market and technology evaluation
Intellectual property and regulatory affairs
Commercializing research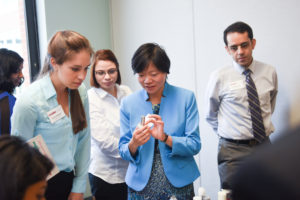 Every feature of the A2i program promotes development of abilities that are highly valued by industry companies, but not typically trained in academic programs. A2i empowers NC State graduate and postdoctoral scholars to hit the ground running in corporate environments through networking events, discussion panels, presentations, development workshops, company site visits, and team projects. These activities expose participants to numerous industry companies along with insights and tactics that enhance their ability to secure industry positions and experience career success.
A2i topics and sessions include the following:
Best practices for leadership, teamwork, and communicating with non-technical audiences
Applying personal branding, networking, using LinkedIn, resume writing, and interview strategies
Offering personal and research elevator pitches
Essential concepts of market and technology evaluation, intellectual property and regulatory affairs, and business strategy and commercialization
Contact Dr. Jason Cramer (jmcramer@ncsu.edu), Director, Accelerate to Industry Program, for more information.
Accelerate to Industry (A2i)™ Mission and Vision
Our mission is to increase graduate and postdoctoral researcher awareness of industry careers and to enhance their ability to display key business and professional competencies in the corporate environment. We intend for the Accelerate to Industry™ approach to emerge as a national model that will transform graduate and postdoctoral workforce readiness, increase graduate student and postdoctoral researcher competitiveness for industry careers, and serve as a key strategy for building partnerships between universities and the private sector.