Graduate Students Gain a Competitive Edge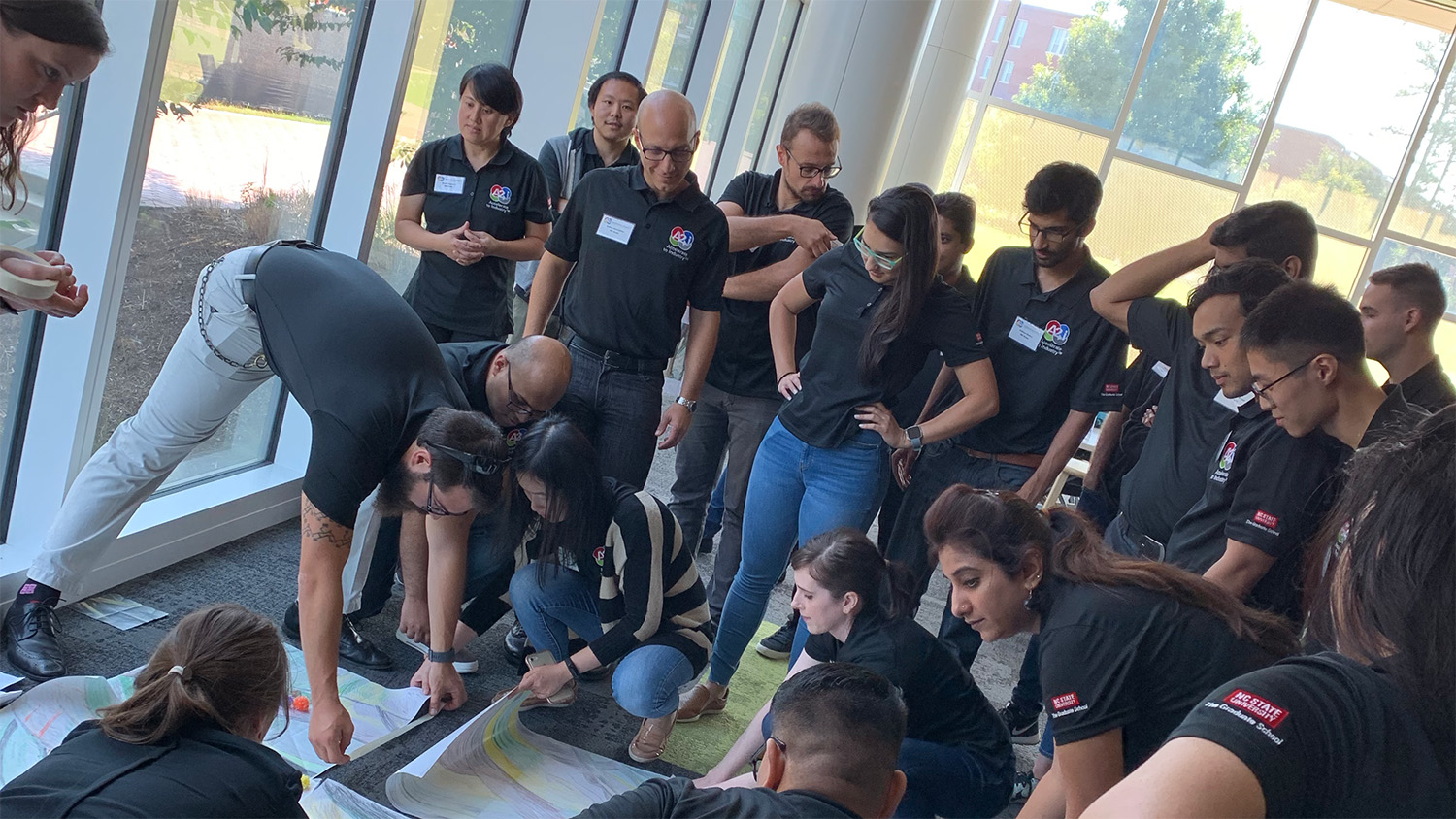 NC State's Graduate School provides students with a solid educational foundation for pursuing future opportunities. Since 2017, graduate students and postdoctoral researchers have been able to take advantage of a unique pathway to reaching professional goals: the Accelerate to Industry (A2i)™ program.
Funded by the National Science Foundation through an Innovations in Graduate Education grant, A2i helps students develop skills that give them an edge in an increasingly competitive workforce. The program helps students gain extra preparation for pursuing careers in industry with hands-on experience and mentoring from partners on Centennial Campus and beyond.
"The program was born in response to the downward trend of PhDs moving into academia combined with the uptick of PhDs moving into industry," said Joe Aldinger, A2i program manager. "Our students have all the benefits of a solid graduate education combined with valuable engagement with industry partners who seek an advanced skill set."
Program Components
A2i's mission is to "show NC State graduate students, postdocs, and alumni the wide range of available industry careers, to assist in their transition to industry, and to empower them to hit the ground running in the corporate environment by demonstrating key competencies that are not usually learned through graduate training." The program accomplishes these goals through a series of five modules — Industry Job Search Strategies, Industry Company Site Visit, Industry Internship, Industry Team Practicum, and Industry Immersion — which offer students at any stage of their graduate career opportunities to engage in the program. 
Job Search Strategies helps students showcase the unique skills to help them land a role within a team or company. Industry Company Site Visits with industry partners and internships give hands-on experience with connecting with potential future employers. The Team Practicum takes participants through 12 weeks of professional development to learn how to work in multidisciplinary teams. Immersion Week gives doctoral and postdoctoral researchers, and doctoral degree-holding NC State alumni, training opportunities to develop strategic skills held in high regard by industry partners. Each component helps build a skill set and knowledge base that makes A2i participants competitive and appealing to industry companies.
"For me, the biggest benefit of A2i was the opportunity to network with people from industry in a friendly environment," said Sahand Bosari, a fifth-year Ph.D. candidate in chemical and biomolecular engineering. "This program provided the opportunity to practice reaching out to people getting to know more about companies and their culture. I have more self confidence to start a talk with someone from a company and have a professional friendly chat." 
Emily Lichtenberger, a 2018 graduate of the fiber and polymer Ph.D. program in the Wilson College of Textiles, participated in multiple workshops, the Job Search Strategies course, and the Industry Immersion Week. She is currently a senior scientist at Parker LORD in their Analytical Services department, working directly with research and development teams to provide analyses to better understand the company's products. 
"With A2i, I was able to meet and interact with industry professionals and learn how to approach the job search," said Lichtenberger. "I also met representatives from Parker LORD at the Industry Immersion Week, which brought me in direct contact with people in the company that were later pivotal in me obtaining this position."
Corporate partners involved in A2i include Google, Parker LORD, MedPharm, Bayer, ABB, Eastman Chemical, Camargo, Precision Biosciences and KBI Biopharma. Program participants also have access to a wide range of companies through the various program components. NC State's Corporate and Foundation Relations Office helps connect those companies to A2i, including Microsoft, with representatives visiting campus last fall.
"So many of these companies are placing increasing importance on access to students graduating with advanced degrees," said Joey Wilkerson, director of Corporate and Foundation Relations. "If we're working with any company in our office, we want to connect them with the A2i program and with students who could be future employees."
The Future of Graduate Education
The current modules have proven quite successful for A2i, and the program is expanding to offer even more opportunities to students. A2i is piloting Industry Packways this spring, in response to an increasing corporate demand for master's degree students. The module is a condensed version of Immersion Week, specifically built for master's students.
Additionally, on February 19-21 the Graduate School and A2i will host the Training Institute, funded by a National Science Foundation Innovation in Graduate Education grant. The Training Institute will bring in graduate education representatives from universities across the country, and teach participants how to implement A2i (which is trademarked and licensed by NC State) at their own institutions. 
"Our goal is to train 30 higher education institutions over the next three years," said Aldinger. "Currently, A2i is unique among graduate schools in the country, but we want to help other universities provide program benefits to their students as well."
Next year, A2i will invite 10 universities from this year's group of participants to evaluate program data and efforts. These universities will then help train the next group of 10 universities coming into the program. 
Offering a wide array of professional development education activities and initiatives provides a solid starting point for graduate students in A2i, and the connections students make in the program can help launch careers.
Knowledge, experience and expertise are extremely valuable; but so are making personal connections that can be the difference in getting in door with an organization," said Wilkerson. "We have more than 250,000 living alumni and they're working in these major companies, so take advantage of those connections and others you can make through your department, A2i and NC State."
This post was originally published in Provost's Office News.