Postdoc Research Spotlight: College of Natural Resources
Highlighting Postdoc Research from the College of Natural Resources
Ronald Márquez, Ph.D.
Postdoc in Forest Biomaterials
Developing anti-pathogenic bio-based materials for food and other packaging 
Research Blurb:
At the forest biomaterials department we are working to develop antipathogenic materials intended for agricultural & food packaging applications. We believe that developing such materials with an ecofriendly perspective can be a way to help reduce the health danger of bacterial or virus transmission via packaging surfaces. We are obtaining antimicrobial, antiviral and antifungi biobased formulations for packaging e.g. forest based coatings with antipathogenic activity, which will help create safer supply chains in the food industry (storage, transportation and retail of produce). We also intend to develop effective antifungal coatings which would prevent losses valued in the billions of dollars to agricultural producers, for example berry and grape growers due to fungi and mold contamination. This will help millions of household be safer in situations similar to the current COVID-19 pandemic, using biobased materials, which can degrade over time and are biocompatible, hence are friendly to the environment.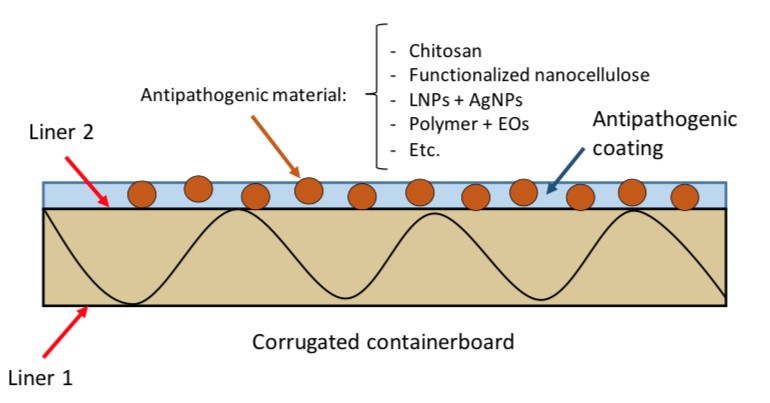 Key Finding:
We have found that lignin, specifically functionalized lignin nanoparticles can render antibacterial and antifungal activity to containerboard surfaces. We intend to prove also it's antiviral activity against influenza and coronavirus type viruses. We will also formulate new antipathogenic coatings, e.g. with essential oils which can render antipathogenic activity to containerboard surfaces.
Research Impact:
We believe that our work will help contribute to a better understanding of how biobased antipathogenic materials can generate safer packaging surfaces. This would help millions of people on the U.S. and all over the world to be safer when being in contact with produce (in the supply chain: storage, transportation and retail) or when packages are shipped and received in our households. Additionally, this would reduce produce losses, which would help farmers and consumers to have a more secure food supply chain, hence helping to reduce the carbon footprint related to food waste.
Connect with Ronald: Website