Manik Chandra Biswas: 6 Tips for International Graduate Students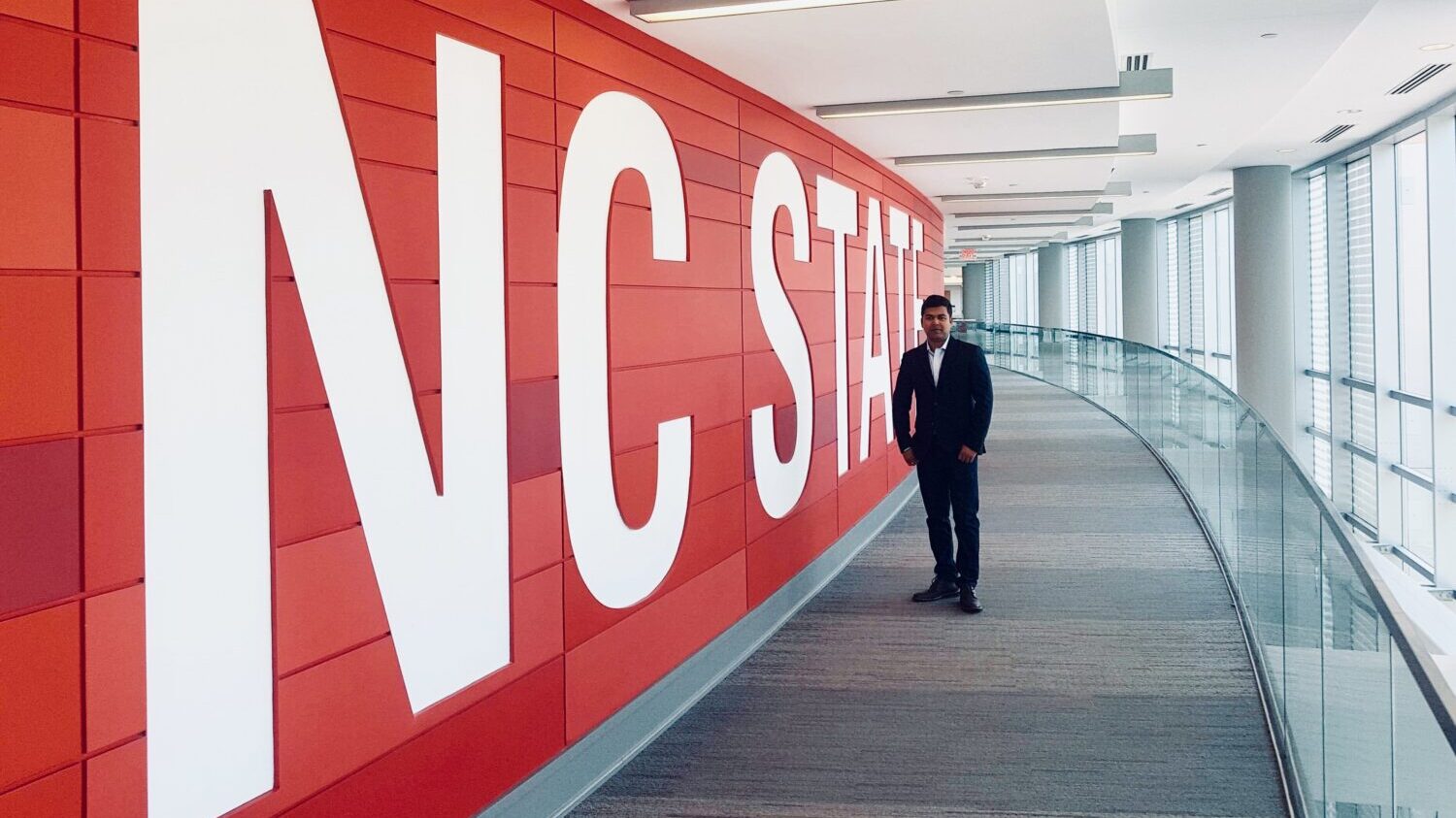 Manik Chandra Biswas is a second year doctoral student in the Fiber and Polymer Science program in Wilson College of Textiles. He joined the program in Fall 2018 as a recipient of the North Carolina Textile Foundation (NCTF) fellowship, and his research focuses on improving the sustainability of the textile industry. We interviewed him to hear more about his amazing graduate research, plans for the future, and what advice he has for other graduate students.
What do you study/research/do at NC State? Why do you believe that work is important?
My graduate research focuses on replacing toxic and environmentally harmful additives in clothing known as "cellulose acetate fibers" (which are found in high-quality, dry-clean-only clothing, such as wedding gowns) for stronger, greener fibers. We developed a sustainable clothing fiber spinning technology which is safer and greener when compared to current means, and I have filed a US patent for this technology and published a peer-reviewed journal article in the journal Carbohydrate Polymers.
These innovations in textile sustainability encourages a circular economy in both textile and agricultural industries, meaning fabrics are easily recycled and reused. We focus on both minimizing waste during production and manufacturing as well as ensure that fabrics in the end are sustainable, economically effective, and balanced.
What influenced you to do what you do/study what you study?
As a master's student at Tuskegee University in Alabama, I published three peer-reviewed journal articles and two book chapters, wherein two papers describe the synthesis of nanomaterials from waste biomass and the subsequent reinforcement of plastics and antimicrobial food packaging, meaning strengthening or increasing the mechanical strength of polymeric materials such as films, fibers.
My fundamental background in applied chemistry, chemical engineering, polymers and fibers motivated me to pursue innovations in green chemistry as well as their adoption by industry and government.
What are you most proud of accomplishing so far at NC State? *
I am proud that I filed one U.S. patent application on my Ph.D. research work as well as submitted three journal articles (1 published, 2 In-progress). You can read the most recently published article here: "Glucaric Acid Additives for the Antiplasticization of Fibers Wet Spun from Cellulose Acetate/Acetic Acid/Water" in Carbohydrate Polymers
Additionally, I received the North Carolina Textile Foundation (NCTF) fellowship (2018-2019), and I served as Vice-President (Internal) and Secretary in the Textile Association of Graduate Students (TAGS) from 2018-2019 & 2019-2020 respectively. Overall, I am really grateful to join Wilson College, NC State University and the Ford Innovation Team (FIT) in the department of Textile Engineering, Chemistry and Science.
What is your mission/goal with your work here at State?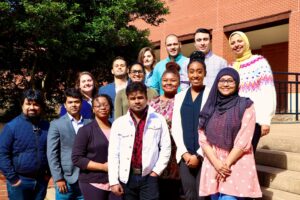 My dream is to be a future leader and driver in helping the textile industry adopt a circular economy. In five years, I would love to work in Research and Development at any National Laboratory or Industry and see myself as chief scientist. After 10 years, I want to be an entrepreneur and start my own company which would focus on creating sustainable materials to further production of valuable green products. By starting a company to make those materials, I would further encourage textile industries as well as any polymer and materials-oriented company like Eastman, Tesla, Nike, and even Amazon, to move toward a greener, more sustainable economy.
What do you find most challenging about your work? What do you find most rewarding about your work?
I believe the most challenging part of any research is to find the root-cause of any analysis or study that a graduate student is conducting. It is common for your first attempt to not work as planned and this can lead you to become demotivated or frustrated. I always keep a plan B as an alternative of plan A.
My graduate research (at the masters and doctoral levels) are marked by innovations in the 1) conversion of biomass waste into value-added materials and 2) substitution of petroleum-based additives with biomass derivatives for the strengthening of plastics and regenerated fibers from natural resources.
During my masters program, as graduate research assistant, I had to find new ideas and research independently, presenting research work at various conferences, managing multiple tasks as lab supervisor etc. This experience has helped prepare me to be an independent researcher and public speaker, as well as become better at multitasking, and being proactive, responsible and accountable.
What is some advice you have for other graduate students or postdocs in your field?
The following are pieces of advice and choices I made as a student that have helped me in the long run:
I would say always be confident in yourself and keep doing hard work. Failure and uncertainty always happen in research. So based on my personal experience, as well as advised by my advisors, I observed that it is always beneficial to have a plan B in your bucket.
Read journal articles, magazines as much as possible to keep yourself updated about state-of-the-art research and technology. It helps to rethink your research experiment and develop more eco-friendly technology so that companies can adopt it for commercialization.
Discuss your ideas and stress with your advisor. Constructive discussion always helps to produce new ideas and innovations. Besides doing research, be mindful to keep yourself, friends, and family healthy and happy. At the end of the day, your mental health matters and affects your academic career.
Try to engage yourself with multicultural activities, workshops for career development, networking events, etc. The Graduate School at NC State provides various professional development workshops and series, please take full advantages from those programs.

I personally participated in the Writing for Journal Publications workshop series, the US Business Communication workshops, and several Accelerate to Industry (A2i) events, all of which I felt were insightful, constructive, and informative.

Multicultural Event organized by TAGS in 2019 with all TAGS members

I volunteered with Wilson College of Textiles' Textile Association of Graduate Students (TAGS), which is a student organization that "share[s] ideas in an inclusive environment, network[s] and socialize[s] and learn[s] from each other."

I served as Vice President (Internal Affairs), which was a nice platform to work for graduate students and college. As Vice President, I presided over TAGS council meetings at the request of or in the absence of the president, acted as proxy for the president at university or student government functions at the president's request, appointed TAGS committees and chairpersons, and helped maintain the TAGS website.

Additionally, I participated in graduate student orientation as a Small Pack Leader (which is a part of the Office of International Services) a couple of times and various events around the campus, which was really fun for me.

As a Small Pack Leader, I oriented, taught, and guided new international graduate students around the NC State campus and greater Raleigh area. This helps international graduate students not feel lonely and can assist in a smooth transition for them to the US.
If you are interested in becoming a Small Pack Leader, you may sign up on the OIS website.
Manik was nominated to be featured in ImPACKful because of his research, awards, and work with TAGS and Small Pack Leaders. Would you or someone you know like to be profiled on ImPACKful? Reach out to us and submit a nomination form!