2019 Postdoc Research Symposium
The 2019 Postdoctoral Research Symposium took place on Friday, May 31st, at the McKimmon Center on the campus of North Carolina State University.
Our keynote speaker was Wayne Holden, Ph.D., President and CEO of RTI International. His talk was titled "My Personal Journey: From Graduate Student to Postdoc to Tenured Professor to CEO."
We also heard from Tammy Collins, Ph.D., Director, NIEHS Office of Fellows' Career Development, about career outcomes for NIEHS postdocs, followed by a panel of Ph.D.-trained scientists who now work in a variety of career areas.
Our Career Panelists included an NC State faculty member with a joint appointment at Idaho National Laboratory as well as two NC State Ph.D. alums working as a Project Architect and Medical Writer.
View the program & abstract book, below.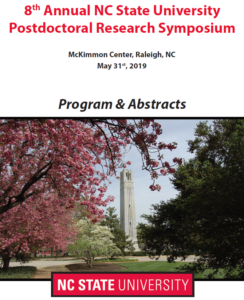 Symposium Schedule: Friday May 31st, 2019