Writing Certificate
The Graduate Professional Development Team's new Writing Certificate offers all graduate and postdoc trainees an opportunity to develop essential writing skills to help you succeed in your academic program and in your professional career.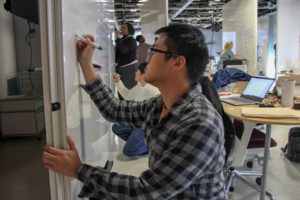 Because the certificate helps students develop the written competencies needed to ensure timely progress to degree and career placement, the proposed writing certificate supports Goal 1 of NC State's Strategic Plan, to "enhance student success." Certificate earners will both gain strategies for composing key academic and professional genres as well as approaches to writing productivity and accountability.
Graduate students and postdocs in any discipline are eligible to earn the Writing Certificate. The Writing Certificate requires 100 hours of participation in approved activities such as Graduate School workshops, development series, support activities like Write with a Pack, and successful completion of an online professional portfolio.
Registration for the Spring 2020 writing certificate enrollment period has closed.  For questions or to learn more about the writing certificate, contact Katie Homar, Director of Academic and Engineering Writing Support.
Visit our Frequently Asked Questions page for more information.