Writing Certificate
Writing and research skills are essential for graduate students' academic and professional success, regardless of their discipline or career. The Graduate School's new Writing Certificate offers an opportunity to develop essential writing skills that will enable scholarly success in your academic discipline and establish a trajectory toward flourishing as a writer throughout your professional life and intended career field.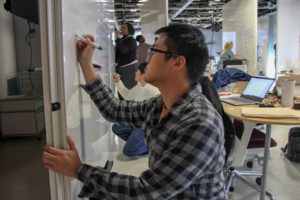 Because it enables students to develop the written competencies needed to ensure timely progress to degree and career placement, the proposed writing certificate supports Goal 1 of NC State's Strategic Plan, to "enhance student success." Certificate earners will publish and present research, apply for grants, contribute to campus teaching and learning, and perform service and outreach at the local, national, and university levels.
Register for the Writing Certificate –>
Graduate students and postdocs in any discipline are eligible to earn a Writing Certificate. The Writing Certificate requires 100 hours of participation in approved activities such as Graduate School writing workshops, development series, and engineering cafés. Participants may also earn up to 50 hours of credit through demonstrating writing expertise in other ways, such as publishing and presenting research in national and campus venues.
Visit our Frequently Asked Questions page for more information.