Academic Packways: Gearing up for Faculty
Academic Packways: Gearing up for Faculty is an ideal professional development opportunity for graduate students and postdoctoral scholars who are interested in pursuing careers in academia. Organized by NC State's Graduate School, the Academic Packways program is engineered to inform students and postdocs about responsibilities and roles of early-career faculty and prepare them for the competitive academic job market.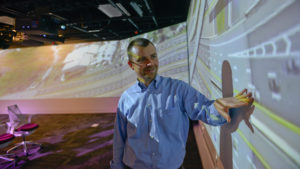 Dr. Bastian J. Schroeder, of the Institute for Transportation Research and Education (ITRE) at North Carolina State University, looks at a civil engineering project in the teaching and visualization lab in the Hunt Library. Photo by Marc Hall
Summer 2018 Academic Packways
The 2018 Academic Packways: Gearing up for Faculty program is a two-day professional development program for NC State postdocs and late-stage PhD candidates interested in pursuing a faculty career.
Dates: Thursday, May 17th & Friday, May 18th
Time: 8:00am – 5:00pm
Location: College of Textiles, Convocation Room (NC State's Centennial Campus)
Cost: $25/person*
*If cost is a prohibitive factor for participating, please contact Nicole Ditillo (nmditill@ncsu.edu)
Successful participants in this program will be able to:
Describe the expectations of faculty roles in various institutional contexts
Network effectively with a diverse group of faculty and administrators
Create a portfolio of appropriate job market materials
Plan next steps using SMART goals and career mapping strategies
Schedule
Application
The Academic Packways: Gearing up for Faculty application is now closed.