Application Status
When looking up a record, the application tab will display the semester code, program code, and status for all submitted applications.

Student applications will be assigned one of the following statuses:
Awaiting Submission: The applicant has started an application, but has not officially submitted for review.
Awaiting Payment: The application has been submitted, but the application fee has not been paid.
Awaiting Materials: The application has been submitted and the fee paid, but is missing a required checklist item (ex: test scores, letter(s) of recommendation, etc).
Awaiting Decision: All required materials have been submitted, and the application is pending the departmental review.
Decided: The DGP decision has been submitted.
What happens next?
After the DGP decision has been submitted, you will see the current bin change, and a decision will be posted with a status. There are three potential statuses for the decision; Provisional (not to be confused with provisional admission) means that the decision is not yet visible to the applicant; Released means that the decision has been sent to the applicant; and Received means that the applicant has viewed their decision letter. The current bin and decision should give you an idea as to where the application is in the Graduate School workflow. Once the applicant submits their enrollment intention form, you you will see their decision listed. Below is an example.

Applicant's Status Portal View
In Slate, applicants have a status portal available to them from the time they submit to after they receive an admission decision. This portal serves as a tool to keep the applicant informed throughout the admission process with checklists that update in real time, application status information, instructions on how to send test scores, and more. We have provided an image of what the applicant sees, prior to an admission decision, as a reference for any questions you may get about where to find something in the portal.
After Submission, before Decision: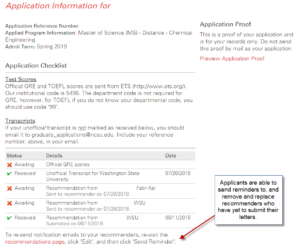 Domestic applicant, recommended for admission: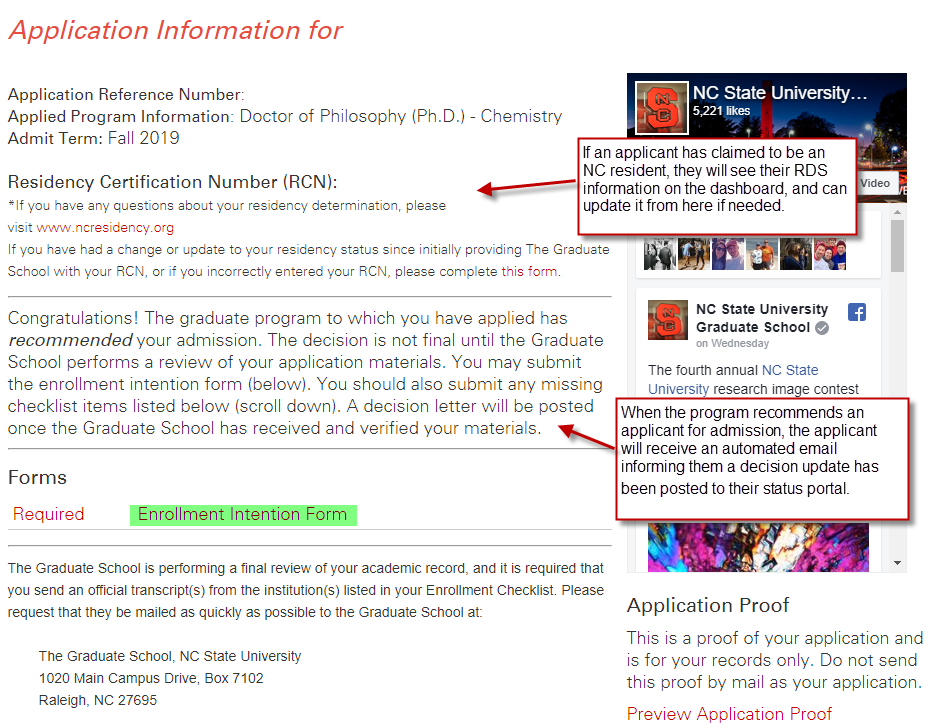 International applicant, recommended for admission: