Prior NC State Credit
The only courses that will show on the degree audit are those taken in the Graduate career. Courses taken as NDS or at the UGRD level need to be transferred into the Graduate career to show on the degree audit.  The DGP can approve this move if the courses fall within the Graduate Handbook rules.
How to access the Prior NC State Credit Admin Page
MyPack Portal > Student Information System > Advising tile > Graduate Degree Planning > Prior NCSU Credit – Admin
Log into MyPack Portal
View your Student Information System Homepage
Select the 'Advising' tile
From the left-hand navigation menu, select 'Graduate Degree Planning'
Select 'Prior NCSU Credit – Admin'
Enter the student's ID # or name and search
This page will show any courses that fall within the transfer credit parameters (i.e. 400-level or above with at least a B grade and was not counted toward fulfillment of undergraduate requirements). Click the "Request" button for any courses that should be applied to the student's degree requirements.
DGPs can approve the move(s) by selecting "Approve" under the "Actions" section for each course and then clicking the "Process Actions" button at the bottom of the page. After an overnight refresh of the system, the approved course(s) will automatically show on the degree audit in the appropriate spot.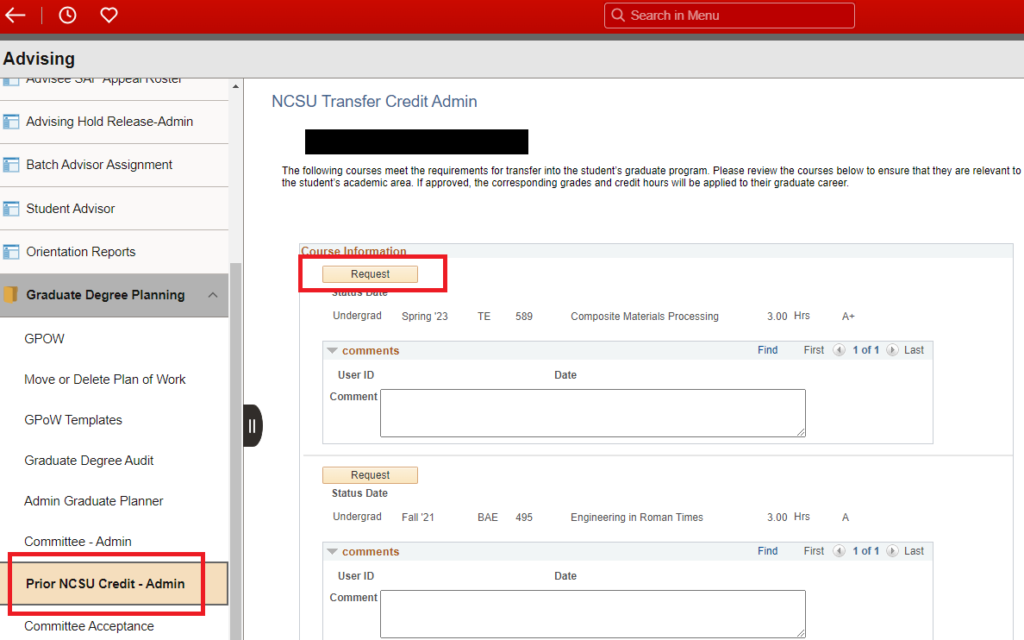 After clicking the "Request" button: