Administrative Graduate Planner Tool
NC State's Graduate Planner tool allows students and their advisor/academic program to work together to create the best strategy for an on-time graduation.
How to access the Administrative Graduate Planner
MyPack Portal > Student Information System > Advising tile > Graduate Degree Planning > Admin Graduate Planner
Log into MyPack Portal
View your Student Information System Homepage
Select the Advising' tile
From the left-hand navigation menu, select 'Graduate Degree Planning'
Select 'Admin Graduate Planner'
Enter the student's ID # or name and search. If a student is enrolled in multiple plans, select which one you would like to view from the dropdown menu at the top of the screen: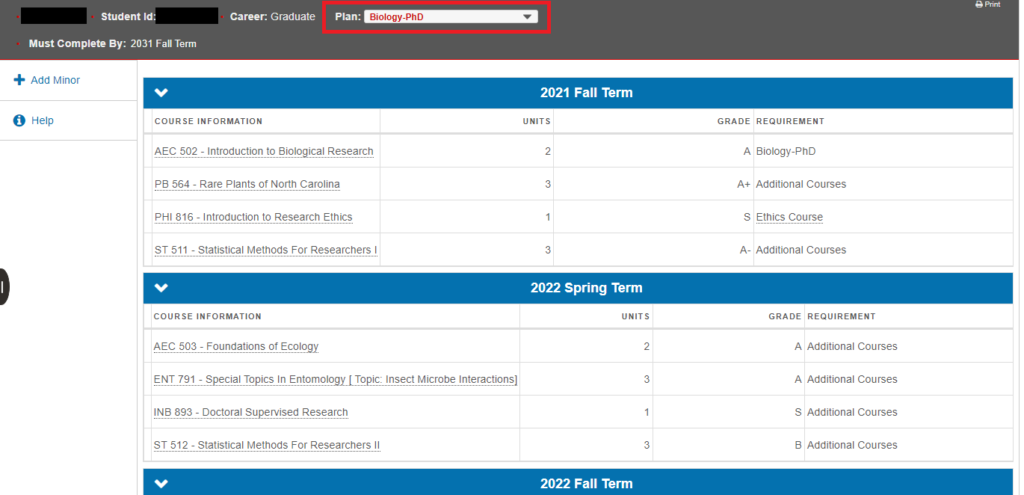 Features of the Graduate Planner
The Planner is the tool students will use to plan the courses they intend to take and the terms they intend to take them. Advisors/DGPs/GSCs can view the planner, move courses to different terms within the planner, and delete planned courses from future terms. However, adding a course to the planner or making customizations must be done by the student via the student Planner. To make these updates administratively, the DGP/GSC would go directly to the administrative graduate degree audit.
Add a Minor
You can add a minor to a student's planner using the Add Minor feature if their academic plan permits a minor. Students in academic plans that do not require a committee may not have a minor. Type in the name of the minor and click 'Search Minors.' Click on the appropriate minor to add it to the academic record. Note that you can add a minor, but to remove a minor requires a curriculum change form (found on the Graduate School Forms page).