Mobile Guide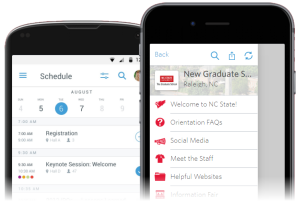 As you make the journey from orientation to graduation we want to help you take full advantage of all that NC State has to offer. For your convenience, we have created a mobile guide to connect you to the Wolfpack community. You can either download the free NC State University Guides app on your iOS, Android, or Blackberry device OR view the web versions on your computer:
Graduate Student Mobile Guide
This guide is for first-year and transfer students beginning at NC State in the Fall 2017 semester. Use this guide before, during, and after New Graduate Student Orientation to assist with your transition to the Wolfpack!
Download the 'NC State University Guides' app in the Apple App Store, Google Play store, or by clicking the link below.
Once downloaded, open the app and find 'The Graduate School' and download the guide.
Download the NC State University Guides App | View the Online version