Course Actions
Course actions refer to all new course initiations and the changes and revisions to current courses approved to be taught in a graduate curriculum. These actions are typically initiated by faculty or program directors.
| Deadline for Submission to the Graduate School | Active Term |
| --- | --- |
| March 15 | Fall |
| September 15 | Spring |
| February 15 | Summer |
For more information on deadlines, contact grad-curriculum@ncsu.edu.
Course Inventory Management (CIM)
All existing and in progress course proposals can be viewed through CourseLeaf's Course Inventory Management (CIM) system. All course actions must be initiated and processed using CIM. CIM allows you to enter your course change information online, attach documents, and track your electronic submission as it makes its way through the approval process. CIM access requires logging in with your NC State unity ID and password.
You can access the Course Inventory Management system by clicking the first button above, or through the following link: https://next-catalog.ncsu.edu/courseadmin/.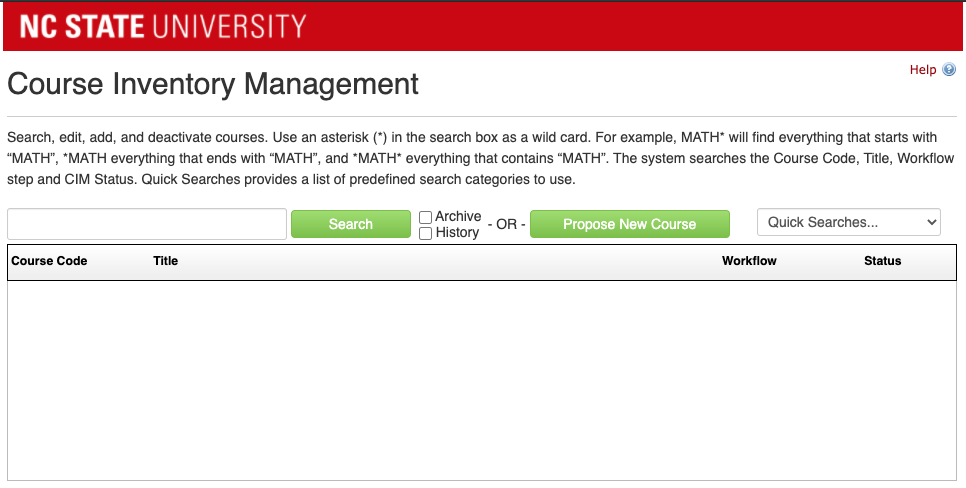 Searching for Courses
Courses can be searched by Course Prefix and Course Number, or filtered by quick search options through the drop-down menu, as shown below: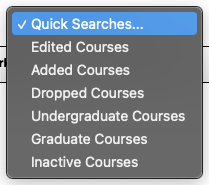 To search for a specific course, enter the Course Prefix and Course Number in the search bar and select "Search", as shown below:

The search will pull the course, and/or similar courses to your search up on the CIM Dashboard, as shown below:

Any courses in workflow will show which queue the course is currently pending approval in and what the status of that course is.