Visit NC STATE Program
Program Overview
North Carolina State University's Graduate School is committed to enhancing the diversity of its graduate programs. The Visit NC State Program is designed to offer prospective graduate students, and particularly those interested in the Ph.D., an opportunity to visit our campus, at no cost, to learn more about current research of our faculty and graduate students, and to experience the quality of our graduate programs. The program contributes to the ethnic, cultural, and academic diversity of NC State's Graduate School and our Professional Colleges.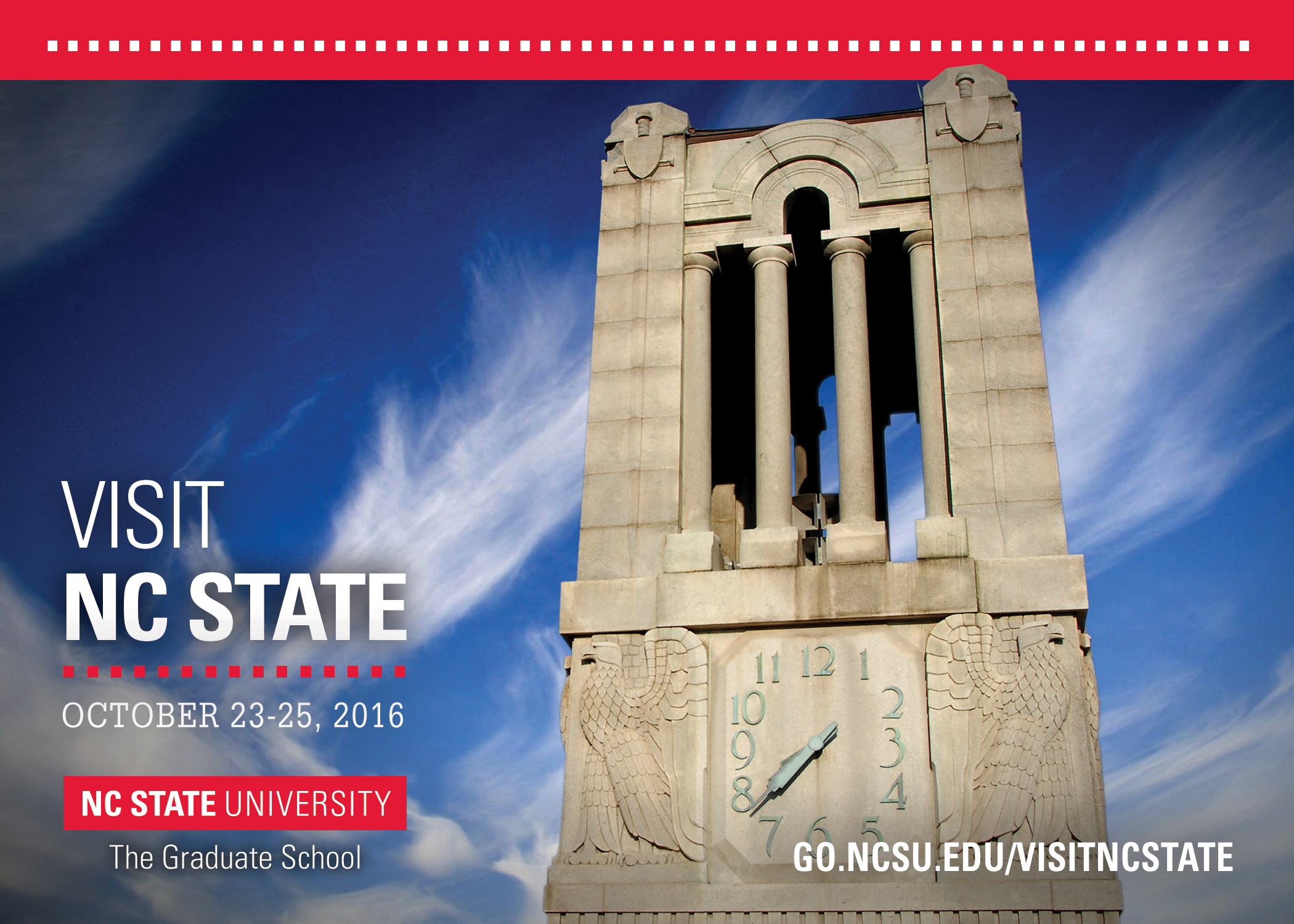 Prospective Graduate Participant Benefits
Interact with world-class faculty in your interested discipline and research interest
Network with current graduate students and other prospective students
Visit several state-of-the-art research facilities and laboratories
Engage administrators on strategies for submitting a competitive application and how to secure funding
Be exposed to research opportunities
Selection Criteria
Prospective graduate students must possess a strong academic profile for the program they are interested in visiting.
Eligibility Requirements
Have a minimum GPA of 3.25
Be a sophomore through senior in college, an enrolled Master's student, or an interested post-baccalaureate
Demonstrate serious consideration to attend NC State University
Be a U.S. citizen or permanent resident (consideration for international students currently enrolled in a higher education institution within the continental United States may be considered)
Complete the entire application (including faculty recommendation, unofficial transcripts, and statement of interest)
Application
To be considered in our selection process, interested students must submit all application materials by September 12, 2016, at 12 noon. Applicants will be notified of decisions of admittance by September 26, 2016.
Visit NC State Program Application
Statement of Interest (500 words or less directed towards your graduate program of interest that indicates your research and/or professional interest and why you want to pursue these interests at NC State University)
Letter of recommendation from faculty
Unofficial copy of transcript (each institution attended)
Current CV/resume
Answers to Common Questions
A FAQ for the Visit NC State Program is available for your convenience.
Covered Accommodations
Air or ground transportation (original receipts must accompany request for reimbursement)
NOTE – We will not reimburse checked luggage fees
Lodging accommodations (double room occupancy)
Meals while participating in the program
Click here to learn more about graduate programs at NC State.
Contact
Brett A. Locklear, Director for Graduate Recruiting
919.513.1981