Phi Kappa Phi
The Honor Society of Phi Kappa Phi North Carolina State University Chapter 033 (Established 1923 )
Phi Kappa Phi is a national honor society established in 1897 to recognize and promote academic excellence in all disciplines of higher education. Phi Kappa Phi is the oldest, largest, and most selective of all such honor societies.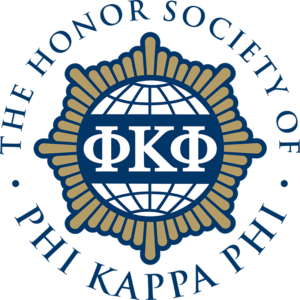 Membership is by invitation only.
Juniors must be in the top 7.5% of their class and have completed at least 45 NCSU hours (minimum of 75 hours overall).
Seniors must be in the top 10% of their class, have completed at least 45 NCSU hours, have been enrolled for at least three full semesters, and have 92 hours overall.
Graduate students must have a GPA of 4.0 based on a minimum of 18 letter graded NC State graduate hours; have no grades lower than A- in all 400-level or above non-PBS and PBS courses; and have no grades of "NR," "U," or "IN."
Courses designated as PBS do not count in the required 18 credit hours. GPA cut-off percentages for membership requirements are calculated in the beginning of the Spring and Fall semesters.
Third Year Doctor of Veterinary Medicine students must be in the top 10% of their class and have completed at least 80 NC State credit hours.
Fourth Year Doctor of Veterinary Medicine students must be in the top 7.5% of their class and have completed at least 120 NC State credit hours.
NC State Chapter Officers
Dr. David Shafer, President
Dr. Kathy Brown, Past President
Dr. Christopher Mayhorn, Treasurer
Recognitions
2019 Phi Kappa Phi National Fellowship
Benjamen O'Hallaron, Plant Biology
Recent Study Abroad Grants
Christopher Brittain Cooper, Chemical Engineering
Stephanie Few, Biomedical Engineering
Shannon Osborn, Biological Sciences*
Caide Wooten, Veterinary Medicine*
*McKenzie Study Abroad Grant – Established in 2011 from the generosity of past Society President Wendell H. McKenzie, Ph.D. and his wife Georgie McKenzie, the grant is given annually to a successful applicant from North Carolina State University.
Recent Love of Learning Awards
Jennifer Frix, Analytics
Kristyn Kamke, Psychology
Zobaida Laota, Education
Induction Ceremony Programs
March 27, 2018
March 28, 2017
March 29, 2016
April 7, 2015
April 8, 2014
April 2, 2013
March 27, 2012
March 29, 2011
March 23, 2010
History of Phi Kappa Phi
Phi Kappa Phi was founded at the University of Maine in 1897 by a group of students, who wanted an honor society that would represent a broader diversity of disciplines than any currently existing society. The original name for the society was Lambda Sigma Eta. In 1898, the name of the society was changed to the Morrill Society in honor of the sponsor of the Land-Grant College Act. Interestingly, NCSU was one of the land-grant colleges established by the Morrill Act of 1864. In 1900, the presidents of the University of Maine, the University of Tennessee, and Pennsylvania State University gathered together to change the Morrill Society into a national honor society, renamed Phi Kappa Phi. These Greek letters represent the initial letters of the motto Philosophia Krateito Photon, which translates into "Let the love of learning rule humanity."
Our chapter was founded in 1923. Dr. W. A. Withers, who was head of the Department of Chemistry (for whom Withers Hall is named), was instrumental in this Chapter's organization.
Benefits of Membership
Recognition for superior academic performance.
Scholarships, grants, and fellowships to further the pursuit of scholarly activities.
Awards that recognize scholarly and artistic accomplishments of members.Opportunities to network with other Phi Kappa Phi members at local, regional, and national conferences. Members may also present their work at these meetings. Publications and publishing opportunities for post-baccalaureate and student members. Society publications include Phi Kappa Phi Forum and the Society's quarterly newsletter, Phi Kappa Phi Focus.
Leadership opportunities at local, regional, and national levels.
Our Symbols
The badge of the Society is a globe surrounded by the rays of the sun in eight groups, signifying the equal status of all branches of learning. The rays represent the dissemination of truth. Encircling the world is a band on which are the Greek letters Phi Kappa Phi, representing the bond of intellectual fraternity that encircles the earth and holds all men and women in a tie of common purpose.
The white ribbon of the Society is bordered with the design known in applied art as the "Walls of Troy," with the letters Phi Kappa Phi at the top. Troy represents the classical humanities and the walls symbolize the constructive skill of the sciences.Seal: The seal of the Society consists of the badge surrounded by the Walls of Troy. Above are three stars to represent the three original chapters and below are the words "Founded 1897."
For more information about any of these topics, please see the National Phi Kappa Phi website.