Writing Support for the College of Engineering
We work with graduate engineering writers to develop communication tools for their academic and professional careers. We design and implement interactive writing programs in multiple formats for graduate students in the College of Engineering. We also build bridges between the Graduate School and existing communication initiatives in COE to maximize students' opportunities for growth as professional and academic communicators in their fields. We engage and connect COE masters, PhD students, and postdocs to writing resources for successful scholarly or professional careers.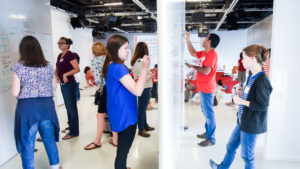 Programs and Resources for COE Graduate Students
Workshops: The Engineering Cafes are a series of interactive workshops where participants will practice and apply effective strategies for composing key academic and professional documents. These are "hands-on" sessions where we "think and do writing" and participants leave with strong drafts of documents through feedback from the facilitators and peers.
We also coordinate workshops with partnering departments in the College of Engineering, such as the Civil Construction and Environmental Engineering  3-Minute Thesis information sessions. These joint COE-Graduate School workshops are open to all graduate students in the College of Engineering interested in strategies for communicating their research to diverse stakeholders.
Learn more and sign

up
Online Writing Accountability Group: Students can join an online group to encourage productivity. Participation in a writing group helps graduate students to manage large projects like theses and dissertations, set aside dedicated time for writing, and be accountable to the group to meet their goals. Members will also have the benefits of additional writing advising appointments, live "meet-ups", and opportunities to compete for prizes if they meet goals.  Online writing groups run each semester with a summer group starting in mid-May.  If you are interested in the Summer 2019 writing group, fill out this form. Students with questions about joining the online writing group can email Katie Homar.
Individual Writing Consultations: Students can meet for 30-60 minute sessions to work on specific documents or features of their writing. Get strategies for starting, revising, or strengthening academic and technical writing: Research papers, articles, reports, proposals, application materials. Bring your laptop with a draft of your writing project OR paper copy of your writing project.
For Summer 2019, please email Katie Homar to set up an individual consultation. You may also email a draft of your project in advance to get the most out of the individual session.
Watch for announcements regarding "walk-in" consulting hours in Fall 2019.
Development Series: These are "hands-on," non-credit course-like workshops focused on key academic and professional  documents, such as composing the dissertation proposal. Participants in these series have the advantage of more extensive, targeted feedback on drafts by working with the instructor and community of peers over multiple sessions.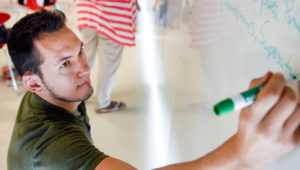 Resources for COE Faculty
Class Visits and Workshop Events: We are happy to collaborate with COE faculty to spread the word about our writing initiatives, for example, in the required first-year seminars. Faculty can request a course visit for a brief informational presentation about the Graduate School's resources in their classes or collaborate to design a more extensive, "hands-on" writing workshop around a departmental event. To set up a class visit or plan a workshop, email Katie Homar.
Writing Course Consultations: We are happy to offer suggestions on designing and implementing writing into courses,  building bridges with writing-focused departmental courses. To schedule a consultation about the writing in your classes, email Katie Homar.